New Nissan X-Trail X-Scape comes with £500 drone as standard
New limited edition X-Trail to be limited to just 200 units in the UK, but fear not - the drone is a £500 option on basic models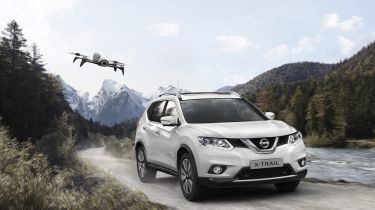 Nissan knows crossovers. The firm's Qashqai is considered to be one of the cars to kickstart the craze and is the UK market bellwether, being the fourth best selling car in Britain so far this year with 23,000 registrations.
These days it's joined in Nissan's range by two other crossovers – the smaller Juke and the larger X-Trail. There's a clear family lineage, but Nissan has always tried to tout the X-Trail as a rugged, exciting go anywhere machine, rather than being just a larger Qashqai.
• Best crossovers on sale 2017
To this extent, Nissan now offers the X-Trail with an eye-catching new optional extra which it thinks could inject a little extra excitement into adventures in the X-Trail – a portable camera drone.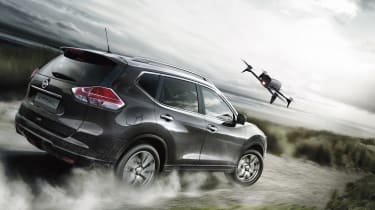 According to Nissan, the big idea is that the drone can be used to capture whatever adventurous exploits you get up to with your X-Trail.
Though the drone wears Nissan branding, it's actually a Parrot Bebop 2 – a lightweight craft weighing just 500g. It comes bundled with a remote control and headset, but it can also operate autonomously and follow your phone's GPS signal via an app. Flight time comes in at just over 25 minutes, and the Bebop 2 captures scenery via a 14 megapixel camera.
It'll be available as a standard feature on a new special edition X-Trail coming to Europe and the UK. Called the X-Trail X-Scape, 1,200 units will be produced, with 200 coming to Britain. These cars will also feature sat-nav, a panoramic sunroof, and roof rails as standard.
Additionally, both Tekna and N-Vision spec X-Trails will be offered with the drone as part of the X-Scape Special Version pack – a £500 outlay on the options list.
Will drones take off in the automotive industry? Tell us your thoughts in the comments