'It's a golden age for used cars that are just like new'
While used cars have been hard to come by recently, Steve Fowler thinks there are still some amazing deals to be had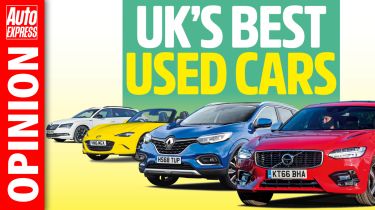 WARNING! Our annual Used Car of the Year Awards may make you want to spend money – it certainly does for me. These awards are not only among the most fun things to judge, but the realisation of what fantastic cars are now available for a fraction of their original price can also put a serious dent in your bank balance.
It's always the biggest depreciators that provide the biggest temptation – such as an Audi R8 for under £35,000, a Volvo S90 for £18,000 or, my personal favourite, a fabulous five-year-old Mercedes S-Class for the price of a new Nissan Qashqai.
Our overall Used Car of the Year is the more affordable – but no less talented – Citroen C3 Aircross, a car I know well because there's one sitting on my driveway right now. The Fowler family has been living with the funky Citroen for 18 months so far, and it's going to be a difficult car to replace when it goes back to the leasing company early next year. But it'll make a cracking used buy for someone, with looks that are still current, and a focus on comfort that's ideal for family transport.
We're in a golden age for used cars right now. Buyers have been reaping the benefits of improvements in quality, tech, efficiency and safety on new models in recent years, and these cars are filtering into the second-hand space.
But the car market is in a strange place. As we've reported before, getting a new model is tricky, with stock in short supply across the board due to the global semiconductor shortage – and it's not much easier in the used market. With fewer new cars being sold, the usual flow of part-exchanges onto the second-hand sector just isn't there, either. And that's following on from pandemic problems over the past year or so, with new-car sales well down last year – again, meaning fewer part-exes coming through for used buyers.
It means you might have to work a bit harder to find that dream car, but they're still out there, with deals to be done.
Check out the best used cars to buy right now...