Quick Peugeot 3008 GTi SUV on the cards
Peugeot could create a fast GTi version of its new 3008 SUV in a bid to push the range upmarket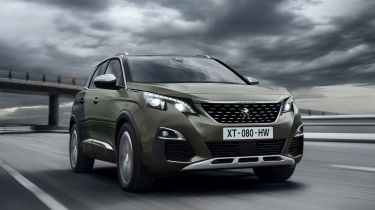 Peugeot's new 3008 SUV could get a hot GTi version to sit above the existing GT model (pictured). The 3008 GTi would slot into the range as a racy, well-equipped flagship model to tempt buyers considering more expensive cars into Peugeot's new SUV.
When asked about a 3008 GTi, 3008 Project Manager Marion David told Auto Express that, "GT is the fastest version for now, but if it does very well then we will look at a higher-level version. People are moving down from more expensive cars and they still want the good performance."
• Best hot hatchbacks to buy now
The Peugeot 3008 sits on the EMP2 platform that also underpins the 308, which means much of the chassis and powertrain could be brought over from the 308 GTi hot hatch. That means the same 267bhp 1.6-litre turbo petrol could be used. A potential GTi model would also have its chassis tuned by Peugeot Sport for more involving handling.
With the 'Coupe Franche' livery, where the back of the car is painted a different colour to the front, already available on certain 3008 models, it's likely that the hot 3008 would get the same treatment, also seen on the 208 GTi and 308 GTi.
As we've previously reported, it would also join a hot 2008 GTi in the Peugeot range, as the company begins to build up a portfolio of hot halo models for its cars.
Could a hot version of the 3008 SUV go down well with UK buyers? Tell us in the comments...