New Peugeot concept car for Beijing
Peugeot confirms new four-seater concept car will be unveiled at the Beijing Motor Show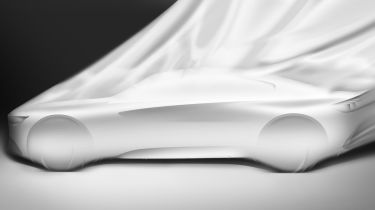 Peugeot has released the first teaser image of the new concept car it will show at this year's Beijing Motor Show. The company has confirmed that the new concept is 'from the same lineage as the Onyx Concept Car,' and 'is a teaser of the brand's future design.'
At 4,730mm long but just 1,310mm high, the as-yet unnamed concept is a little shorter than the current Peugeot 508, which measures 4,792mm, but also lower than the RCZ, which is 1,362mm tall.
The concept a four-door coupe, which Peugeot claims 'offers athletic and refined styling for four passengers and their luggage.'
Although the teaser image doesn't reveal much, you can make out the concept's short front overhang and its long bonnet, which help give seemingly elegant proportions. There's a swooping coupe roofline, extremely long wheelbase and long rear overhang too – all of which promise a striking look when the car is revealed in Beijing on April 20.
You can see a couple of design themes that have been adopted from the Onyx concept, first shown at the Paris Motor Show in 2012. At the front are angular, slender headlights, which have now been adopted on production cars like the 308, 2008 and facelifted 3008/5008.
The tail-lights are made up of three LED blocks that are supposed to look like claws, referencing the Peugeot lion logo. This design theme is also now used on production Peugeots.
The new concept's bodyside also features a more refined version of the big scalloped area that helped add muscle to the Onyx's copper and carbon fibre profile. The new concept features a further cutout along the side sill, to help it appear lower, while a rear wing adds to the sporty stance.
More of the new concept's design will be revealed in an art installation that Peugeot will show at the 'International Automobile Festival, Tribute to Sensations' in Paris, which runs from January 29 to February 2.
Peugeot will also show the Onyx concept, 308 R Concept, the 208 T16 Pikes Peak and the 908 HDi Le Mans car at the French event.