Ari Vatanen: interview with the motorsport legend
Motorsport legend Ari Vatanen talks about his time with Peugeot Sport, rallying's heritage and its future
Few are better qualified to discuss the merits of Peugeot's rallying heritage than Ari Vatanen. Back in the eighties, he contributed five wins to the 205 T16's World Rally Championship legacy, and while he failed to secure an overall WRC title with the French firm, he went on to clean up in the Dakar with four wins in the 405 T16.
He also helped commit one of the greatest-ever on-board clips to celluloid in Climb Dance during his victorious run in the legendary Pikes Peak hillclimb in Colorado in 1986.
• Peugeot's greatest ever motorsport cars and drivers
Erudite, affable and quick-witted – and with a diplomatic nous that saw him elected to the European Parliament in 1999 – Ari is also ideally placed to comment on the current state of the WRC. Here's what the flying Finn had to say when we met.
Ari on... The Peugeot 205 T16
"A top rally car has to be like a good wine – a great all-rounder. It can't have any significant weaknesses. A lot of power can't make up for poor handling. Everything must be in balance, and that's what the 205 T16 really was. It was confidence-inspiring; that's something you can't measure.
"One example: if you have, say, 5km of snow and 30km of tarmac on a stage at Monaco, you'd normally take tarmac tyres. But in the Peugeot I'd select wide winter tyres. Not as fast as slicks, but you could touch snow or ice on the road and stay flat-out. On dry tyres, you're afraid of damp patches or hidden ice. As I said, the Peugeot was confidence-inspiring; you could make a conservative tyre choice and then drive like a mad man, absolutely committed to the stage."
• Top 10 greatest Peugeot Sport road cars
Ari on... The move to Group B
"It was an incredible difference. When I first saw the Audi Quattro at Portugal in 1981, I told everyone we might as well go home. It was obvious that four-wheel drive was the way to make a really fast rally car.
"But the greatest difference was going from four-wheel to two-wheel drive. After my accident in 1987, I drove at the Thousand Lakes rally in a rear-wheel-drive Ford Sierra RS Cosworth – the Texaco car. At first I thought there was something wrong with the transmission; the wheels were spinning, there was lots of noise, but we weren't moving! Two-wheel drive was so inefficient compared with Group B cars.
"I didn't really have to adapt my style, either; the cars were so well balanced, they were easy to drive.You'd left-foot brake, get it turning, floor it, and you're smiling inside the car. People think you're a magician. If only they knew how easy it was!"
Ari on... Pikes Peak
"The 405 was easy to drive, too, and the four-wheel steering didn't really affect the way you drove. It was certainly a lot more agile; in fast corners, the rear wheels turned in the same direction as the fronts for stability, and they went in the opposite direction at lower speeds.
"The challenge of Pikes Peak is absolutely still there today. Okay, it's not as spectacular on tarmac, and the cars don't get as sideways. But there's still no run-off. If something goes wrong, you'll fly a long way."
• The future of Peugeot Sport with boss Bruno Famin
Ari on... Dakar
"Dakar today isn't really Dakar. It's more like a regular rally than it used to be in the African days. But there are still plenty of unmade roads and it's always unpredictable, so you need totally different suspension to the WRC. That's why Peugeot built its car to buggy rules; you get big wheel travel, lots of ground clearance, huge tyres. It's a really fast off-road car.
"Figuring out how much to push on the Dakar is like drawing a line in water. You're always afraid of what's over the next brow, so it's only in the evening that you know whether your speed was any good. But that's the beauty of Dakar. When I started, you had only an approximate road book and a compass. Everybody got lost, maybe for half-an-hour, maybe an hour. But it was an eye-opener, too; we were driving through the poorest countries in the world."
Ari on... Modern WRC
"The WRC needs what the rallying commission proposed a year ago. At the last stage, all the times should be divided by 10. If [Sébastien] Ogier's leading by 20 seconds, his lead will be cut to two. If [Kris] Meeke is next and 15 seconds from [Jari-Matti] Latvala, he'll only have a 1.5-second gap.
"Currently, you might have a minute or more between cars after the first full day, so the drivers cruise for the rest of the rally; they can't catch up to the guy in front, and the guy behind won't often catch them. But if you know there'll be only seconds between you on the last stage, everyone would drive flat-out from the word go. And that'd create much more drama. You don't want to know the murderer in Agatha Christie's books in the middle, but on the last page.
"Secondly, it must be accessible. The sport's like a pyramid, and the base – the grassroots level – has to be very wide, and affordable. I think rear-wheel drive would be a good way of reducing costs. US motorsport is great at feeding the grassroots. They might not always run the latest tech, but what they do run is available to so many more people. I think the WRC is developing well, but it hasn't reached its full potential – far from it."
Peugeot Sport: from race to road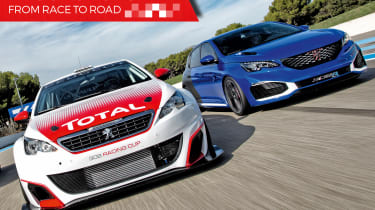 Our special guide to the past, present and future of Peugeot Sport...