Porsche 911 range updated: more power and tech
Porsche announces new optional 30bhp power increase for 911 Carrera S, 4S and Targa 4S as part of Sport Chrono pack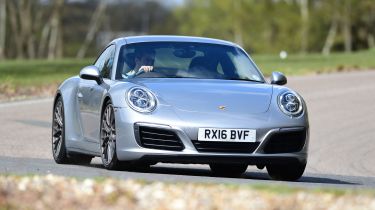 It hasn't been on sale all that long, but the newly turbocharged Porsche 911 range is about to be updated for the 2017 model year. The upgrades will bring more connectivity features, new colour options and the availability of a 30bhp power boost for some variants.
Available through 'Porsche Exclusive', the power upgrade kit is being offered on the 911 Carrera S, Carrera 4S and Targa 4S. It adds 30bhp - upping total output to 444bhp - thanks to larger turbochargers, and includes the Sports Chrono pack with dynamic engine mounts, a sports exhaust and modified brake cooling.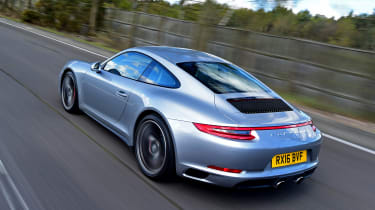 The pack, which costs from €10,139 Euros (around £8,800), brings the power of the Carrera S up to 444bhp - or the same as the new 911 GTS. From June 2017, the power boost can be retrofitted to models which already have the Sport Chrono pack - pricing for the retrofit is yet to be announced.
Elsewhere, Porsche has also expanded its 'Porsche Connect' smartphone connectivity system with a new Connect Plus option that adds an integrated SIM card. It means a flat data rate can be charged for navigation and infotainment services, while later in the year music streaming and a WiFi hotspot will also feature.
New colour choices are available inside and out, too, with a highlight being the new four-coat Saffron Yellow finish. Porsche is yet to confirm UK prices for its range of updates, but did say a "price adjustment" of between 0.9 and 2.0 per cent is expected.
Is £8,800 for a 30bhp power boost a good deal 911 fans? Let us know in the comments section...