Porsche 718 Boxster and Cayman GTS 4.0 PDK automatic launched
Porsche has dampened down the driver involvement for its 718 GTS models with a new seven-speed dual-clutch PDK automatic gearbox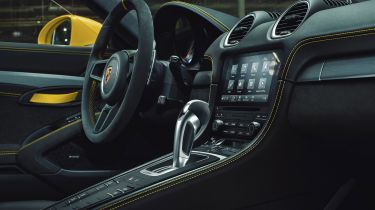 The Porsche 718 Boxster GTS 4.0 and Cayman GTS 4.0 are now both available with a new seven-speed dual-clutch automatic gearbox. Prices start from £68,643 for the 718 Boxster and £66,783 for the 718 Cayman, representing a £2,303 increase over the standard six-speed manual models.
Porsche's new automatic gearbox is hitched to the same naturally aspirated 4.0-litre flat-six petrol engine, which has an identical output of 396bhp and 420Nm of torque. However, the transmission's shorter ratios and faster shifts has dropped both cars' 0–62mph times by half a second to four seconds flat.
Both cars come with Porsche's Sport Chrono package as standard, which adds four driver profiles – Normal, Sport, Sport Plus and Individual. In Sport mode, the automatic gearbox's upshifts are more aggressive, while downshifts are programmed to occur higher up the rev range and with automatic throttle blips.
Sport Plus mode screws the maximum amount of performance out of the drivetrain and unlocks a launch control function. Finally, Individual mode allows the driver to setup the car's chassis, engine and gearbox parameters according to their personal preferences.
Porsche has also added a new Sport Response function which, in essence, is a "push to pass" button. The programme demands the maximum amount of performance from the 718 GTS's powertrain for 20 seconds, regardless of the current driving mode.
In addition, the new automatic gearbox is now available in the more hardcore 718 Spyder and 718 Cayman GT4 flagship models – and both come with a mechanically locking differential as standard. Prices start from £75,850 for the former and £77,780 for the latter – or £2,000 more expensive than the standard models.
To complement the new gearbox, Porsche has tweaked the level of standard equipment offered across the 718 family. The outgoing models' Alcantara upholstery has been swapped for Race-Tex microfibre, while a new Python Green paint finish will be added to the 718 Spyder and 718 Cayman GT4.
Now read our review of the manual-equipped Porsche 718 Cayman GTS...