Porsche Cayenne S Diesel vs BMW X5 M50d
The all-new Porsche Cayenne S Diesel packs V8 power, but can it outmuscle the straight-six-engined BMW X5?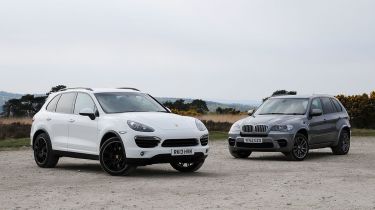 Porsche is famous for its low-slung sports cars, but its biggest-selling model in the UK is the Cayenne. The SUV is now into its second generation, and its once controversial looks have matured into an acceptable upmarket shape, while a classy cabin and superb handling have made it our class favourite.
But if there's one chink in its armour, it's the fact that the V6 diesel model lacks the warp-speed performance people expect from a Porsche. This has now been addressed by the new twin-turbo 4.2-litre V8 S Diesel, which has 850Nm of torque – that's 150Nm more than the petrol Cayenne Turbo.
However, this isn't the only high-performance diesel SUV on the market. The BMW X5 M50d Sport wears the hallowed M badge and produces a near-identical 375bhp from its three-stage turbo 3.0-litre straight-six engine. And with an all-new X5 just around the corner, this blisteringly quick range-topper is out to prove that there's still life in the old dog yet. So which of our rapid, high-riding contenders makes more sense?
Verdict
If you want a large SUV with serious performance, you no longer have to choose a thirsty petrol car. Both of our diesel-engined test contenders here have the mid-range grunt and thrilling acceleration to rival sports cars, yet they combine this performance with practical interiors, excellent refinement and relatively low emissions.
Porsche's new Cayenne S Diesel is cheaper and faster than the X5 M50d, but more importantly it's much better to drive – with sharper handling and better steering, as well as class-leading refinement and a first-rate cabin.
Plus, many buyers will find the diesel's subtle styling more appealing than that of the more ostentatious petrol versions Porsche sells. So the newcomer is our pick of the range.
The X5 still has a lot going for it, though. Its practical and spacious cabin is a big plus point, and even though it's showing its age, build quality inside is still strong, too. But it proves just how much the class has moved on that BMW's former benchmark is now dynamically outclassed by the newer, better-looking and more upmarket Porsche.
Mixing luxury, practicality, performance and driver involvement, the Cayenne S Diesel is an SUV star – and a deserving winner in this test.