Porsche Cayman vs rivals
We hit twisty roads to see if the all-new Porsche Cayman still has the edge over its coupe rivals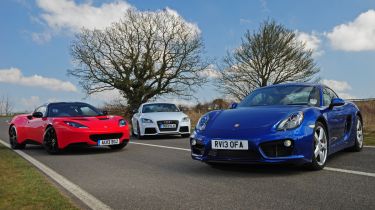 Building the perfect sports car is all about physics, and the original Porsche Cayman used a mid-engined layout, with all the major components between the axles, to gain a reputation as one of the best-handling cars in the business.
Now the second generation has arrived in the UK. It's lighter, faster and more efficient than ever, while retaining the original car's pin-sharp character.
In its first test, we try the range-topping Cayman S with a PDK twin-clutch gearbox, which costs £51,235. At that price, the newcomer doesn't have a natural rival, so we've picked two very different cars to test it against.
First up is the similarly priced Audi TT RS Plus. It's the sportiest TT ever, and with 355bhp it has the performance to match the Porsche, while quattro four-wheel drive gives it immense grip.
Or there's the British alternative: the Lotus Evora S. The mid-engined layout is the same as the Cayman's, while the new Sports Racer model adds a host of extra kit and special exterior detailing. It costs over £15,000 more than the Porsche, though. Can the Lotus overcome the price gap? And will either rival beat the new Cayman?
Verdict
The best has just got better. Few sports cars deliver a driving experience to match the sublime Porsche Cayman. Peerless handling, an upmarket and comfortable cabin, plus a surprisingly good ride, mean every journey is to be savoured. The 3.4-litre Cayman S adds scintillating performance to the mix, while the optional PDK transmission is one of the best dual-clutch gearboxes in the business.
Porsche's newest offering is in a class of its own – but the Evora Sports Racer is a worthy alternative. It delivers the engaging driving experience you'd expect from a Lotus, but despite all the extra kit, it's still too expensive.
That's also true of the Audi TT RS Plus. While it offers massive performance and surefooted handling, this car simply isn't that much fun to drive, and the ride is way too firm.