Porsche Cayman and Boxster GTS video review
Can the extra features and power on the Porsche Boxster and Cayman GTS justify a price premium?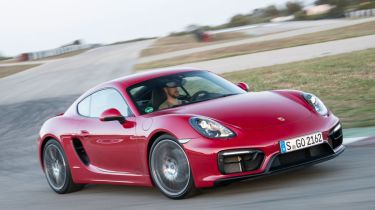 The decision of whether to buy the Porsche Boxster S or Cayman S has just become harder, thanks to the arrival of the new GTS models. 
The new Porsche Cayman and Boxster GTS cost around £6,000 more than the S models, and come with unique front bumpers, plus a 15bhp upgrade to their 3.4-litre engines. This now provides the Boxster with 330bhp, and the Cayman with 340bhp. 
The GTS models also feature the Porsche sports exhaust as standard - a £1,530 option on the S - which gives the flat-six engine a more aggressive note. Both models also get Alcantara and leather trim on the dash, which on the S model comes at a premium of £1,740.
However, Porsche also gives both models a lot of unnecessary features, such as smoked rear-light clusters, directional headlamp beams and 20-inch alloy wheels - which you'll eventually end up clattering on a kerb. 
Both the Porsche Cayman and Boxster GTS come with the Sport Chrono Package which includes launch control and active engine mounts. While nice in terms of technology and to pretend you're one of the Porsche's race drivers, it's difficult to justify and discern these additional features when out on the open road.
To conclude, you'd only need to spend £4,000 to get all of the right options on your Porsche Boxster or Cayman S. Effectively, you're paying an extra £2,000 for some new bumpers, the history attached to the GTS badge and an extra 15bhp, which you can't really feel out on the open road. It would be better to spend £2,000 on Porsche's excellent PDK paddleshift gearbox, so the premium for the GTS isn't really worth it.