Renault upmarket sub-brand inches closer
Renault reveals plans to roll out Ford Vignale-style top-spec Initiale Paris models right across the range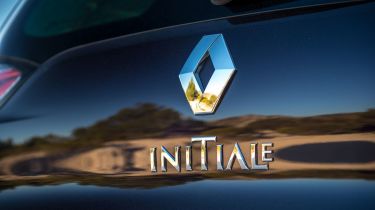 Renault bosses have confirmed plans to roll out a Ford Vignale-style upmarket sub-brand across its current product range over the next few years.
Speaking from this week's new Espace launch in Marseille, Gérard Payen, Deputy Vice-President D-segment vehicles said Initiale Paris models would be "the best version of each product", with each car offering "the best features for the customer."
Currently only available in mainland Europe, the Initiale Paris specification is sold on the Clio and new Espace. However, Payen told us that Renault doesn't want to stop with just two models. "We are going to roll it out across the range bit by bit", he said.
He made the point that they'd need to assess right-hand drive demand before confirming these cars for the UK, but insisted Initiale Paris versions of other models were on the cards. In theory, at least, that means we could see flagship Initiale versions of the Captur and Megane before long, as well as the new Kadjar SUV later this year and revised Scenic due in 2016.
As Payen mentioned, Initiale Paris models would sit at the top of the Renault range and offer almost every available option as standard. In France, Clio Initiale Paris buyers get a reversing camera, automatic lights and wipers, a seven-inch touchscreen infotainment with sat-nav and heated leather seats. Climate control, 17-inch alloy wheels, xenon headlamps and privacy glass are also included, with prices topping out at €25,400 (£18,300) for the most powerful diesel. The only specifiable extra on the Espace Initiale Paris is a retractable panoramic roof.
The move comes just months after Citroen announced plans to separate its stylish DS models from the more mainstream cars, and a matter of days since prices were announced for Ford's first top-spec Mondeo Vignale model.
In other news, Renault bosses confirmed plans to expand the company's production facility at Douai in France. The Espace's new CMF platform will provide a base for the new Laguna and Fluence models, as well as 12 other upcoming C and D segment Renault and Nissans by 2020.