Clio RS 200 vs Renault 5 GT turbo
We pit the Renaultsport Clio 200 against the veteran Renault 5 GT turbo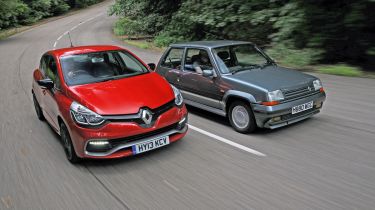 | | | |
| --- | --- | --- |
| Specs | Renaultsport Clio 200 | Renault 5 GT turbo |
| Price new | £18,995 | (1988) £9,050 |
| Engine | 1.6-litre 4cyl turbo | 1.4-litre 4cyl turbo |
| Power | 197bhp | 120bhp |
| 0-60mph | 6.7 seconds | 7.1 seconds |
| Top speed | 143mph | 125mph |
For a nation that revels in its cultural and gastronomic indifference towards the UK, France has tried very hard to tempt us into its hot hatches over the years. From the earliest Gordinis and Alpines to today's Renaultsports, Renault – as well as Peugeot and Citroen – has a better understanding of UK hot hatch tastes than any other nation.
The latest rapid Renault is the Clio 200 – and it has a lot to live up to, as it replaces one of the most engaging and agile hot hatches of its generation. On the face of it, there's plenty to like; it looks amazing, features a thumping 197bhp engine and was developed by the same team that fine-tuned the previous model.
It's also incredibly quick, covering 0-60mph in only 6.7 seconds, with plenty of mid-range pull. Yet the Clio 200 feels less than the sum of its parts. A return to turbocharging has taken away the previous model's raw edge and rev-hungry character, while the lack of a manual box option further alienates those who like to call the shots at the wheel.
The six-speed dual-clutch EDC auto is smooth, but it isn't as quick as it should be, and it's hampered by notchy, oversized paddles. Renault's switch to turbocharged power for its hot hatch marks a return to the tech that underpinned one of its most famous pocket rockets. The 5 GT turbo, launched in 1985, was a problem child from the start.
It acquired an unwelcome reputation for overheating, turbo lag and a reluctance to start when hot – flaws notable by their absence in the rally-inspired Peugeot 205 GTi that quickly knocked the stuffing out of Renault's sales plan for its ageing 5. So the company launched a Phase II in 1987.
It was more reliable, easier to live with and, with a power boost from 115bhp to 120bhp, even more fun to drive. All these years later, there's something special and exotic about the 5 GT turbo. Lift the back-to-front bonnet and you can't help but be impressed with how busy it all seems.
However, you soon realise that most of the pipes, fans, cowls and ducting are there to get around the problems of having a very hot, very overworked engine shoe-horned into a space it wasn't really designed for. The combination of Garrett T2 turbo, old-fashioned carburettor and sixties pushrod engine was always going to be trouble, but it's a testament to Renault's engineering that the whole thing hangs together so well.
Driving the 5 GT is a great experience, and a reminder of how far turbocharging technology has advanced over the decades. Turbo lag – the Achilles' heel of many hot hatches way back in the late eighties – is impossible to escape, and it's easy tolet the engine go off the boil. It's also incredibly difficult to maintain a steady cruising speed, as the turbo wants tospin up at 70mph in fifth.
However, these inherent flaws are very easy to forgive once you're on the open road. The GT turbo doesn't seem like a mass-produced model that's designed to please a marketing department. It looks and feels like a car developed by engineers wanting to do something different.
In contrast to the XR2, the Renault also feels special inside. The chunky three-spoke wheel looks like it could've been taken straight out of a works rally car, while the heavily bolstered seats grip in all the right places. Even the classic Jaeger dials look the part.
This car may not have been the hot hatch that defined the eighties, but in many respects it was the most adventurous. For all its flaws, it perfectly captures the essence of performance motoring. A guaranteed future classic.