Renault EOLAB concept review
Is this the Clio of the future? We test super-efficient Renault EOLAB concept car
The idea behind the Renault EOLAB's development centred around having such a car available to buy within 10 years. It looks fantastic, drives largely like a supermini and there has been no compromise on performance despite the remarkable efficiency gains. While a comparative showroom version is some way off, we could well be looking at the Renault Clio of the future.
Behind the pristine and beautifully sculpted exterior of a concept car you won't often find many oily bits. However, the Renault EOLAB is a little bit different because this concept is also a prototype. Following its debut at the Paris Motor Show earlier this month, Renault has decided not to wrap its multi-million pound hybrid concept car up in cotton wool. Auto Express has driven it and there is a lot more to the EOLAB than just a pretty face.
• Read more about the Renault EOLAB concept car
For two years, Renault has been working on the EOLAB after initially being tasked by the French government to develop a financially viable car that consumes only 2 litres/100km of fuel – or 141mpg. But Renault thought it could do better, and it did. The EOLAB is capable of 282mpg – or so Renault claims – and features more than 100 new technical innovations all centered around boosting efficiency.
The fundamentals of the EOLAB are simple, shed weight, improve aerodynamic efficiency and utilize hybrid power. However, the challenge was combing those factors and executing it precisely so it remains affordable. Renault believes it has achieved this with the EOLAB but while the car won't make it into production as you see it, the technology and up to 90 per cent of its components could be applied to Renault's road cars by 2022. Some of the technology can already be seen in the new Espace.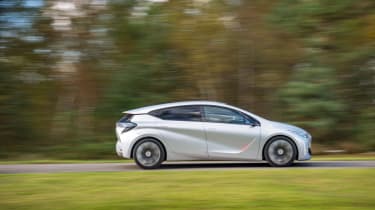 Rather than add cost to the development of the EOLAB, Renault has moved the money around production process to where it's needed most. So while the advanced body is more costly to produce it allows Renault to implement cheaper, simpler and lighter brakes, powertrains, batteries and wheels.
The engine in the EOLAB is a development of the existing 74bhp 1.0-litre three-cylinder motor you'll find in the Twingo, which is assisted by a compact 64bhp electric motor. The hybrid system is installed in a body that's 30 per cent more aerodynamic and 255kg lighter than an equally proportioned Clio, thanks to a teardrop-like shape and extensive use of aluminium, magnesium and plastic.
It's a complex piece of engineering but best of all it works, and it works well. There is always enough power supplied by the electric motor for you to pull away in full EV mode, which is does with a fair amount of zip. Once you reach 25mph the three-cylinder engine kicks in to boost power. The transition between driving modes is detectable only by noise, there's no vibrations or jolt from the intervening 1.0-litre engine to aid progress. Work needs to be done on refining the power shift but it is works effectively with fluid power delivery.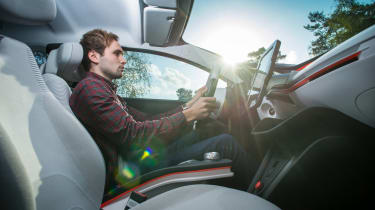 The gearbox needs some fine-tuning, too. Renault has opted to use a clutchless three-speed auto in place of a bulky CVT auto. Two of the three gears are mated to the electric motor, while the third is connected to the small petrol engine. It's loud and a little clunky with its changes but it is a unique enough idea for us to forgive its initial flaws.
The cabin, however, has been executed perfectly. Cosmetically it's a little rough around the edges, but what prototype isn't? iPhone sized screens for wing mirrors, a huge central HMI display which instructs you how to be more economical and supportive but lightweight seats are all innovative ideas. On a practical level, it's considerably lower than a Clio but offers just as much space inside.
Jab the throttle and at 43mph active aero dynamics come into play. The EOLAB lowers itself by 25mm, deploys its active front spoiler which drops by 100mm and seals up the eight-spoke wheels to improve air flow, which only reopen when the brakes need cooling.
The ultra-skinny tyres provide decent levels of grip despite their size, although there is some noticeable lean in the corners. But it does have some urgency in the way it builds up speed, with Renault claiming 0-62mph in 9 seconds – the same as a 120bhp Clio – so it feels lively. The steering is positively weighted with good feedback, so it appears Renault hasn't completely neglected driver engagement in the pursuit of ultimate economy.