Deal of the Day: 0% APR on the stylish electric Renault Megane
Our Deal of the Day for October 31st is this Renault Megane Techno+ for £288 a month on 0% APR, which looks like spookily good value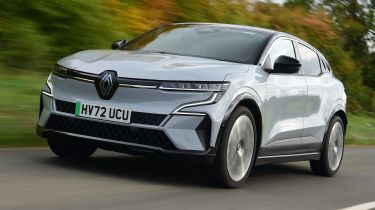 £288 a month for 3 years with 0% APR
£9,084 deposit 
A top electric car at a good price
If you're in the market for a compact family car with electric power, the new Renault Megane E-Tech should already be on your shortlist. Renault is offering 0% APR on a PCP (Personal Contract Purchase) finance plan might just elevate it to the top. 
Our Halloween Deal of the Day comes direct from Renault and is certainly nothing for car buyers to be scared of. A £9,084 deposit and monthly payments of £288 will get you three years with Renault's latest interpretation of the family hatchback. After that, there's an optional final payment of just over £20,000 to take ownership of the car or the option to hand it back and use any equity as a deposit on another car. With 0% APR, the total amount payable on the deal is equal to the current cash price for a Megane E-Tech Techno+ at £39,495. 
Needless to say, we're big fans of the latest Renault Megane - our 2022 Small Company Car of the Year. The electric-only model has a 280-mile official range and offers stylish SUV-like looks with an interior of real quality. The mix of ride comfort and responsive handling is very well judged for the family car class and the performance is strong, evidenced by a 7.5s 0-62mph time.
One thing to be aware of is that rear legroom is not as generous as some buyers might like. It's fine for smaller children, but try before you buy if you plan on regularly carrying adults in the back. The boot is generous in size, although there is a big loading lip.
The Megane Techno+ we're looking at here has a heat pump as standard, which will help boost the range in cold weather - addressing another of the issues we found while testing the car. There's also the nine-inch touchscreen infotainment system powered by Google software that remains one of the very best around, and a set of 20" alloys to enhance those SUV-inspired looks. You could pay a little less for an Equilibre trim model with no heat pump and smaller wheels, but we think the Techno+ is where the smart Megane money goes. 
As always with our Deal of the Day selections, prices and offers are subject to change, while terms and conditions apply. Our experts scour the market for the best deals on cars that we're happy to recommend, choosing only the ones that we think offer the best value.
To get today's Deal of the Day click here or take a look at yesterday's deal…