New SEAT eScooter concept to preview production model
The all-electric SEAT eScooter concept has been teased ahead of a full unveil on 19 November at this year's Barcelona Smart City Expo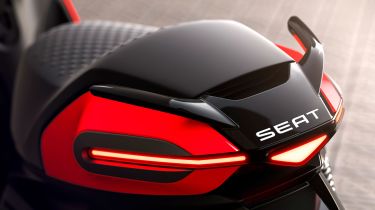 SEAT has confirmed it will launch an all-electric eScooter concept on 19 November at the Barcelona Smart City Expo World Congress, with plans to produce a production version in the coming months. The electric motorcycle will be part of the Spanish brand's "micromobility" strategy, which aims to provide compact, sustainable transport for cities.
The eScooter's teaser image suggests it will bear similar dimensions to the Peugeot Satelis 125i and Honda Forza 125. Like most scooters it'll feature an upright windscreen, and a hinged saddle covering a luggage compartment large enough for a helmet.
• SEAT and Cupra given lead in fresh VW Group "micromobility" push
Specifications on SEAT's production-ready electric motorcycle remain under wraps, but the firm has confirmed it will have performance "equivalent to a 125cc model." For current A1 license holders, power is capped at around 15bhp for 125cc motorcycles – and we expect SEAT's new electric motorcycle will offer similar performance.
SEAT's production-ready electric scooter will be built in collaboration with the Spanish motorcycle manufacturer Silence, and will be sold to both private customers and vehicle sharing companies. It will also be the latest product in SEAT's planned range of alternative micromobility vehicles, following on from the recently released Renault Twizy-rivalling SEAT Minimo concept.
SEAT's President, Luca de Meo, said: "the constant growth of large cities makes achieving efficient mobility one of the main challenges to overcome. Today we are taking a further step in our urban micromobility strategy by confirming the launch of the first eScooter in the history of the brand."
What do you make of SEAT's planned all-electric motorcycle? Let us know in the comments section below…