All-new 2016 SEAT Ibiza previewed in official sketch
SEAT reveals first design sketch for the fifth-generation SEAT Ibiza which will represent a 'significant step forward' for SEAT design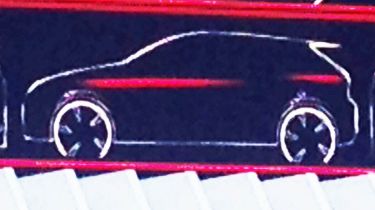 SEAT has given us a first look at the all-new fifth-generation Ibiza supermini in a series of simple design sketches comparing it to its predecessors. Bosses also confirmed that the Ford Fiesta rival will arrive after the new SEAT SUV launches in 2016, suggesting an on sale date in late 2016 or early 2017. The slide you can see here was flashed up during an event to celebrate the 30th anniversary of the Ibiza – SEAT's most popular model ever with over five million sold since 1984. We spoke with SEAT design boss Alejandro Mesonero, who told us to expect a significant change of design direction with the new car.
"The fifth-generation [Ibiza] is something I'm approaching with much excitement. For me the Ibiza is a car that has evolved with small-scale revolutions," Mesonero explained. "The new Ibiza will also have a revolution, a significant step forward. Why? Because the market demands it and it has to set itself apart from the Leon. The lines will change, but the spirit will stay the same."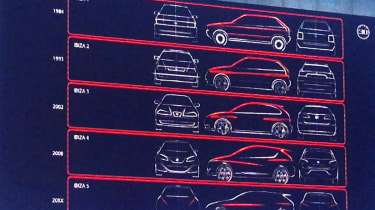 As you can see in the sketch, the current car's curved creases along the flanks will be replaced with more horizontal feature lines, harking back to the squarer first-generation model. An 'X' motif will be repeated at the front and back using the light clusters and bumper intakes, too. "Even without badges it will clearly be an Ibiza, we are working really hard on the proportions so this new car still looks good when we celebrate the Ibiza's 50th anniversary," said Mesonero.
SEAT CEO, Jurgen Stackmann added: "Designing a new Ibiza is an experience – it need to be normal enough to be bought by everyone, but special enough to stand out."
Like the next-generation VW Polo and Audi A1, the new Ibiza will be based on a shrunken version of the VW Group's modular MQB platform. As a result it will weigh significantly less than the current model, and benefit from the latest three and four-cylinder engines as well as safety kit and infotainment technology from further up the range.