"New Leon marks a solid start for SEAT's future"
The new fourth-generation SEAT Leon hatchback marks a solid start for SEAT going forward, believes John McIIroy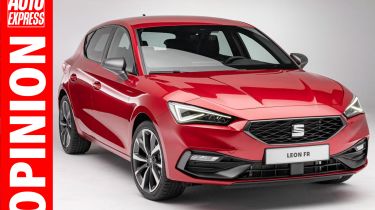 This is a huge week for radical new models; in this issue you can read first verdicts on the all-electric MINI and the ever-so-cute Honda e. And yet in volume terms, the biggest new car is probably the SEAT Leon, which we visited in a studio last week.
SEAT was still something of a VW Group basket case before the third generation of the Leon arrived in 2012. It stitched together lots of the same chassis and engines as the likes of the Volkswagen Golf and the Skoda Octavia in a package which had, well, just a little bit more Latin flair than the German and Czech offerings.
The result was a smash hit. Well over a million Mk3 Leons have been shifted over the past seven years. Including one that's sitting on my driveway right now.
You can read our full coverage on the new, fourth-generation Leon online – but suffice it to say that on the face of it, SEAT's designers and engineers have done the logical thing and addressed the key issues of the outgoing model: namely, a few dodgy materials in its cabin and fairly cramped rear-seat accommodation.
Is the new model's overall shape as rakish as that of the car it replaces? Perhaps not quite. But it now offers much the same interior space as a Golf and pretty much the same tech – in a good-looking body, with pricesthat will almost inevitably be slightly keener.
In lots of ways, in fact, the new Leon reeks of the influence of Luca de Meo, the sales and marketing specialist whose razor-sharp focus on delivering products that customers actually want has transformed the Spanish manufacturer's fortunes in recent years.
And it makes us wonder how big a blow de Meo's recent decision to step away from SEAT (who is now pursuing a career at the helm of Renault) will be for everyone in Barcelona. The new Leon looks set to provide further evidence of how far SEAT has come. And leave us doubly curious about what the company does next.
Are you excited for the future of SEAT? Let us know your thoughts in the comments below...