SEAT Leon vs BMW 1 Series
The new SEAT Leon mixes stylish looks with the promise of agility and efficiency. Can it beat the BMW 1 Series?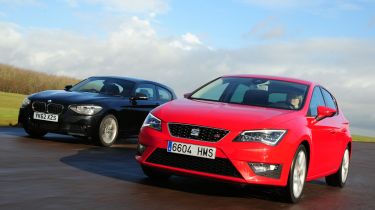 Thanks to stand-out looks and an engaging driving experience, the second-generation SEAT Leon was a very popular choice with buyers who were looking for a hatchback with a sporty edge. Now there's an all-new Leon arriving in UK dealers, and it promises to add a higher level of quality to this already winning combination.
But if the Leon wants to be regarded as a real driver's car with a premium edge, it has to prove itself against one of the best-handling hatchbacks on the market: the BMW 1 Series.
In its first test, we pit the most powerful Leon at launch – the 181bhp 2.0 TDI FR – against the 118d M Sport. Both cars have 2.0-litre diesel engines, but while the SEAT is front-wheel drive, the 1 Series relies on BMW's traditional rear-wheel-drive layout.
Will this put the new Leon at a disadvantage when it comes to driving fun, or can it offer a genuine alternative to fans of sharp-handling hatchbacks?
Verdict
The new SEAT Leon is a clear step forward from its predecessor. It looks great, performs well and the interior has the same upmarket feel as the latest Volkswagen Golf. It's a very strong contender in this class – and arguably the best model yet to be based on the VW Group's new MQB platform.
It's certainly much better looking than the BMW 1 Series. But that car has always traded on its ability to put a smile on your face, rather than its styling. Yet the SEAT manages to run the BMW close for driving fun, too. Both have a sporty edge and the limitations of the SEAT's front-wheel-drive layout only really become apparent when you're reaching the limit of grip on a test track.
However, when you look at the numbers, the new Leon pulls out a clear advantage. Its 2.0-litre diesel engine is more powerful and more efficient than the BMW's, while our top-of-the range model is over £1,000 cheaper than the 118d M Sport. And for that reason, the Leon wins this test.
Few drivers are going to fully exploit the 1 Series' superior handing during everyday driving, and the SEAT's considerable depth of talents – from a larger boot and rear seats to extremely refined motorway cruising ability – mean the BMW has to settle for being second best this time around.