Top 10 greatest Skoda cars ever
Skoda has 100 years of history behind it and to mark the arrival of the new Skoda Fabia we take a look at some of its best ever cars
The new Skoda Fabia is here - and Skoda will be hoping it's a big success. Can it match any of the best Skodas ever, though? Read on to find out more about the 10 greatest Skodas ever in this huge group test.
Skoda has been around for over 100 years, so it has plenty of highlights from the past. The early luxury models are impressive, but its affordable and attractive models are also great - and the modern cars draw from that with their low prices and practical body styles.
We've been through the back catalogue and picked out ten of the best Skoda cars ever to give you a taste of the company's rich history. Read on to discover more about these important models, as well as plenty of vital statistics about them.
Skoda 422
Price: £1,360 (1929) - On sale: 1929-32 - Engine: 1.2-litre 4cyl petrol - Power: 22bhp - 0-62mph: N/A - Top speed: 47mph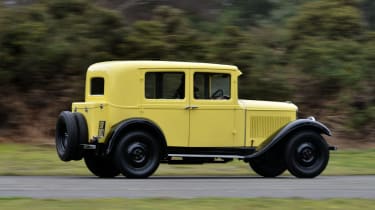 As with many of the first car makers, the Skoda story starts with a bicycle. The company was founded as Laurin & Klement in 1895, and progressed from pedal power to motorbikes at the turn of the century, before making its first car in 1905. It merged with Skoda Works – an arms manufacturer – and in 1924 the first car under the new name emerged.
The Skoda 422 was launched during a massive global economic depression, so only 3,435 were made. Each was powered by a tiny 22bhp four-cylinder engine and weighed just over a ton, and had a top speed of only 47mph.
In common with most cars of the period, it was offered in saloon, coupé, cabriolet and taxi bodystyles, and had a simple ladder-frame chassis and a wooden body clothed in steel panels.
Driving it today is a completely alien experience. For example, the throttle and brake pedals are reversed compared to a modern car, and there's not much space for the driver. However, as befits its limousine status, there's plenty of room to lounge in the rear.
It's packed with period details, too, such as the air horn, single windscreen wiper and dash-mounted, wind-up eight-day clock. It may not be very well known, but the luxurious 422 is a fascinating insight into Skoda's founding days.
Skoda Popular
Price: £292 (1940) - On sale: 1934-46 - Engine: 1.1-litre 4cyl petrol - Power: 30bhp - 0-62mph: N/A - Top speed: 70mph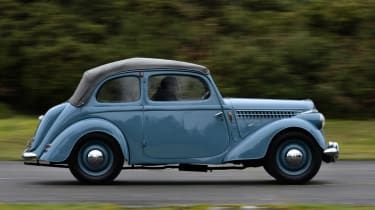 Seeing the 422 and the Popular together, it's clear how far motoring raced ahead in the thirties. Launched in 1934, the Popular was also the first model with a name rather than a number, and it was designed to offer affordable motoring to the masses.
The car had a backbone tube rather than a ladder-frame chassis to reduce weight and improve rigidity. Radically for the time, it featured an all-independent suspension set-up. Early cars were fitted with a 902cc engine, which grew to 995cc and then 1.1 litres.
The shapely body dispensed with running boards, while the functional cabin features Bakelite switches and watch-like dials.
Available as a coupé, two-seat roadster and four-seater cabriolet, the Popular was the basis for a trio of pre-war models that all featured names Skoda has since revisited – the Rapid, Favorit and Superb. With this line-up, the brand had a market share of nearly 40 per cent in Czechoslovakia by 1938.
In 1939, the Skoda plant switched largely to war production. Even so, small numbers were built during World War II, including the 1940 example in our pictures. Yet the car's underpinnings would live on well into the fifties as it formed the basis of the Skoda 1100.
Skoda Felicia
Price: £638 (1963) - On sale: 1961-64 - Engine: 1.1-litre 4cyl petrol - Power: 55bhp - 0-62mph: 24.5 secs - Top speed: 80mph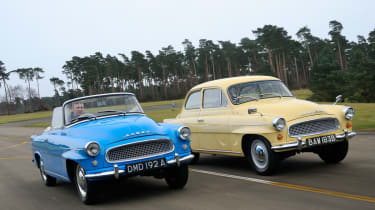 The idea of a glamorous cabriolet may seem at odds with the austere Communist times of its creation, but that didn't stop Skoda launching the 1.1-litre Felicia convertible in 1959, followed by the 1.2-litre Felicia Super in 1961.
It has the look of a scaled-down American cabriolet, with its rounded windscreen, chrome wheel covers, whitewall tyres and flared tail-fins. Yet for all its faux Americana, it was actually based on the Octavia (below) and, in the case of the 1963 example in our pictures, only had a 55bhp four-cylinder engine under the bulbous bonnet.
Drum brakes, worm and nut steering, a hefty 900kg kerbweight and a rear swing axle mean it's no sports car. But it's easy to imagine the car justifying the Felicia name (it's derived from the Latin for happiness) on a sunny day in the early sixties, especially as the four-seat cabin and decent boot meant there was room for friends and a picnic.
Unsurprisingly for a car made in Eastern Europe and sold in the UK, there was also the option of a fibreglass hard top for the chilly and wet winter months.
Skoda Octavia
Price: £610 (1959) - On sale: 1959-64 - Engine: 1.2-litre 4cyl petrol - Power: 47bhp - 0-62mph: 29.0 secs - Top speed: 71mph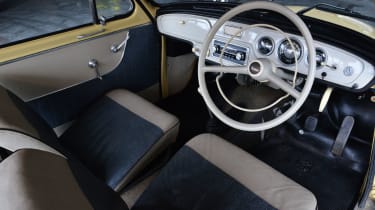 Launched in 1959, the Octavia Super was the eighth model since Skoda's post-war nationalisation. With its bulky, American-inspired looks, this oddball car offered British motorists an alternative to family car favourites such as the Ford Cortina.
With a 1.2-litre engine and less than 50bhp, performance is leisurely. And while the Octavia had an old-fashioned body on backbone chassis set-up, it benefited from coil-spring front suspension – although a leaf spring was used at the rear.
The four-speed gearbox operates from right to left, with first at the top, while the vague worm and ball steering takes some getting used to. Compared to mainstream rivals, the Octavia was well equipped, with a heater, rear armrests and no less than three ashtrays. It even had competition success, with a class win on the 1961 Monte Carlo Rally.
Skoda 1000MB
Price: £579 (1965) - On sale: 1964-1969 - Engine: 1.0-litre 4cyl petrol - Power: 42bhp - 0-62mph: 30.8 secs - Top speed: 78mph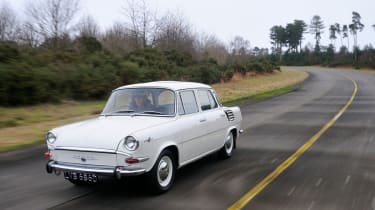 When Skoda revealed its handsome 1000MB saloon in 1964, it turned out to be the start of a long love affair with rear-engined cars for the brand.
Yet while Skoda's budget-priced Estelle and Rapid models were the butt of many motoring jokes in the eighties, the sophisticated 1000MB matched many rivals for quality and performance. Designed as a replacement for the Octavia, the all-new machine marked a radical change in direction for Skoda. Not only was the 1000MB's smooth 1.0-litre engine mounted in the rear, the newcomer featured all-independent suspension and a four-speed gearbox.
But it's the details that mark out the 1000MB. For example, one of the ornate badges mounted on the front wing doubles as a fuel filler flap, while the smooth front grille drops down to reveal the spare wheel. And inside, all the door pulls and window winders are made from beautifully cast metal.
It drives well, too. The steering and gearshift are vague, but the 1.0-litre engine is refined and eager, while the suspension soaks up bumps that would send a shudder through modern cars. Yet it's the 1000MB's influence on later Skodas that cements its place in history.
Skoda110 R coupe
Price: £1,079 (1974) - On sale: 1970-1980 - Engine: 1.1-litre 4cyl petrol - Power: 62bhp - 0-62mph: 18.5 secs - Top speed: 90mph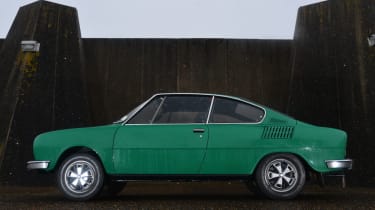 During the seventies, Western Europe's car makers were focused on compact, stylish, front-wheel-drive hatchbacks, but on the other side of the Iron Curtain, Skoda ploughed on with the rear-engined formula set out by the 1000MB.
It created the 100 saloon, which was followed by the 110, and while these workhorses went against the grain, they did spawn a sporty two-door: the 110 R. With its raked rear windscreen and sloping bodywork, the 110 R cut a dash when compared to its four-door counterparts, while the smooth front end and grilles cut into the rear wheelarches give it a distinctive look.
The 110 R shared its engine layout with the Porsche 911, although its performance lagged well behind, thanks to the 62bhp 1.1-litre twin-carb engine in the back. Perhapsthat's a good thing, because the combination of a treacherous swing-axle rear suspension set-up and all that weight hanging out the rear meant the 110 R was prone to sudden lift-off oversteer. But that didn't stop it from becoming a popular car for motorsport.
Like the 911, the Skoda's rear-engined layout resulted in excellent traction, meaning the highly tuned 1.3-litre 130 RS special turned this coupé into a potent rally car and club racer.
Skoda Fabia vRS
Price: £11,990 (2003) - On sale: 2003-2007 - Engine: 1.9-litre 4cyl diesel - Power: 128bhp - 0-62mph: 9.6 seconds - Top speed: 127mph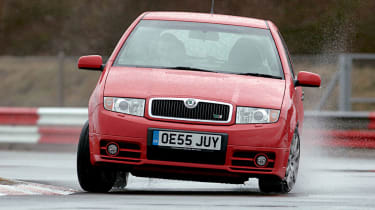 The original Fabia vRS was a hot hatch that did things differently. By combining a muscular diesel engine with entertaining handling, it proved big thrills don't have to mean big bills.
At the heart of the car's appeal was Skoda's tried-and-tested 1.9-litre TDI, tuned to give 128bhp and 310Nm of torque. It couldn't match high-revving petrol rivals for driver appeal, but the diesel hit back with blistering real-world pace.
While 0-62mph took a leisurely 9.6 seconds, heavy-hitting mid-range punch left the competition breathless.
Better still, this effortless pace was matched to composed and engaging handling. Even today the Fabia feels alert and agile, while the steering is well weighted with decent feel. Yet what marks this Skoda out as a future classic is its ability to blend performance with everyday practicality.
The versatile five-door layout and roomy interior make it family-friendly, while a supple ride and tall sixth gear take the strain out of long journeys. Then there's the economy. Drive it hard and the vRS will return 40mpg, and with gentle use you'll get nearly 60mpg.
As a hot hatch that appeals to the heart and head, the Fabia thoroughly deserves its place in our top 10.
Skoda Yeti
Price: From £16,600 - On sale: 2009-present - Engine: 1.2-litre 4cyl turbo - Power: 104bhp - 0-62mph: 11.4 secs - Top speed: 110mph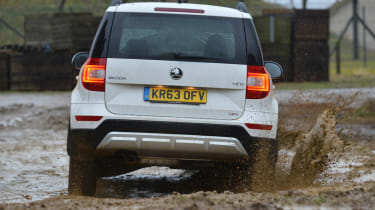 When Skoda wanted a more practical car in its line-up, it could have gone down the plain-Jane MPV route. Instead, the brand looked at the popularity of its Octavia and Fabia Scout models, which feature raised suspension and extra black plastic cladding, and decided that a crossover SUV could be just the ticket.
And so the Yeti was born. It's based on the same platform as the MkII Octavia, but has taller suspension and a highly distinctive design that appeals to buyers who want SUV styling, but without the size and high running costs of a 4x4.
While it looks boxy, the Yeti is actually a surprisingly sharp performer on the road. The extra suspension travel helps iron out big bumps, while a range of turbo petrol and diesel engines gives it decent straight-line performance. It feels surprisingly agile through a series of corners, too, plus the option of four-wheel drive means the Yeti has the off-road ability to back up its rugged looks.
This combination of decent pace and a practical cabin meant the Yeti took top honours at the 2010 Auto Express New Car Awards, scooping our prestigious Car of the Year title.
And it's a car that is loved by owners – for the past two years the Yeti has topped our Driver Power survey.
Skoda Octavia vRS
Price: From £23,310 - On sale: 2001-present - Engine: 2.0-litre 4cyl petrol turbo - Power: 217bhp - 0-62mph: 6.8 secs - Top speed: 154mph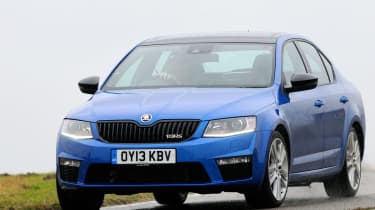 Skoda's vRS performance brand was established with hot versions of the first-generation Fabia and Octavia, and the current Octavia vRS continues in that tradition of delivering high performance in an understated, great-value package.
The first Octavia vRS was launched in 2001, and featured a 180bhp 1.8-litre turbocharged petrol engine borrowed from the Audi TT. It gave the car an impressively brisk 0-62mph time of 7.5 seconds.
Styling tweaks were subtle, too – only the addition of larger alloy wheels, a bodykit and green vRS badges marked it out. In fact, the hot model could easily be mistaken for a regular Octavia, until it left most other cars standing in the traffic light grand prix.
The second-generation model shared its running gear with VW's MkV Golf GTI, which meant a potent 197bhp 2.0-litre TFSI petrol engine or 168bhp 2.0 TDI diesel combined with an engaging chassis.
Today, the Octavia vRS MkIII still shares much with the Golf GTI, as it uses the same turbocharged engine, now turned up to 217bhp, and a sharp chassis with lowered and stiffened suspension. There's also the option of the 181bhp 2.0 TDI from the Golf GTD.
Throughout its life, the vRS has delivered an entertaining drive that's on a par with the Golf GTI's, but it's always had an extra trick up its sleeve – practicality. The hatchback has a 590-litre boot, but if you want to carry really big loads in a hurry, Skoda has always sold a vRS version of the Octavia Estate – perhaps one of the best Q-cars around.
Skoda Citigo
Price: From £8,090 - On sale: 2012-present - Engine: 1.0-litre 3cyl petrol - Power: 74bhp - 0-62mph: 13.2 secs - Top speed: 107mph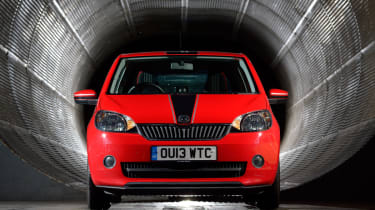 Today, Skoda is going from strength to strength, with a range of no-nonsense cars that delivers practicality in a high-quality package.
That can't be any better summed up than with the brand's smallest model, the Citigo. Its tiny dimensions and wheel-at-each-corner design mean it's perfect for the cut-and-thrust of busy urban streets, while the rev-happy three-cylinder engine has plenty of power to make the most of any gaps that open in the traffic.
But there's more to the Citigo than just peppy urban performance. Head for the motorway, and the smallest Skoda won't feel out of its depth, as the engine happily thrums along and the car feels rock steady at speed.
On top of this, the Citigo has the cabin space to rival larger superminis. Sure, the boot's not that big, but the practical cabin has room for four, the body-coloured interior trim adds youthful appeal and an excellent finish means the Citigo feels built to last, even though reasonable pricing means you won't break the bank to sample it.
All of these factors helped the little Skoda take Auto Express' Car of the Year award in 2012. And despite the arrival of newer models, it still leads the way in the city car class.