Skoda preparing new EV sports car
All-electric Skoda coupe to be part of five-EV range and take inspiration from the 1970s 110R
Skoda bosses have confirmed for the first time that the Czech brand is looking to develop an all-electric sports car. It will be one of five EVs due on sale by 2025, Auto Express can exclusively reveal.
Speaking about the history of the brand and some of its most iconic models, Christian Strube, Skoda's boss for technical development, told us: "The story that Skoda is all about function, it is not true. Skoda has 120 years of history, it's full of emotion."
Strube referenced the rear-engined, rear-wheel-drive 110 R Coupe (see below) from the seventies as the sort of variety and excitement previously seen in the manufacturer's range. Asked if Skoda would ever make a car like the 110 R – which he owns an example of – Strube replied: "Yes, but electric." Our exclusive images illustrate how Skoda's electric sports car could look.
No timeframe on its arrival was indicated, but Skoda is likely to want to target the bigger volume EV segments first with its five planned EVs. Auto Express understands that an all-electric version of the Citigo will debut in 2019, while a production version of the Vision E SUV concept that debuted at last month's Shanghai Motor Show is confirmed to follow in 2020. At least one additional SUV and another family vehicle would likely arrive ahead of the sports car, but all of them will be on sale by 2025.
The MEB electrical architecture, which will form the mechanical make-up of the sports car, also provides Skoda with huge flexibility in terms of power and dynamics. In the Vision E, power comes from two electric motors with a combined output of 302bhp – and with one motor mounted on each axle, it also has four-wheel drive. Skoda claims the concept is capable of 112mph and 0-62mph in six seconds, while being able to cover up to 310 miles.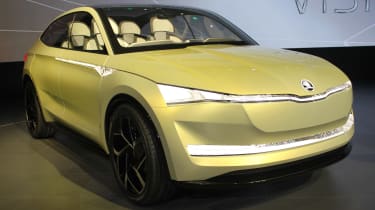 The flexibility of the MEB platform – which will be used across the whole VW Group – will allow Skoda to make its sports car rear-wheel drive by using a single electric motor on the rear axle. Using only one motor would reduce range and power over what is produced in the Vision E, but it would give it a layout that mirrors the classic 110 R.
We expect the new model to borrow cues from the Vision E but adopt a sportier profile. The MEB platform would also give Skoda design bosses huge creative freedom due to the lack of mechanical parts within the vehicle.
Skoda has previously spelled out plans to offer EVs with a range of power outputs, and that could possibly extend to the option of four-wheel drive. If Skoda employs a similar strategy to VW, the range of its Vision E and sports car could begin at 248 miles and rise to as much as 373 miles.
The electric sports car is one of a number of new models tasked with injecting more emotion and excitement into Skoda. The first sign of the firm moving away from its sensible and practical roots will be with a Kodiaq coupe SUV, which will initially be produced and sold exclusively in China.
And here's its tricky handling ancestor...
The car that could provide inspiration to the new EV was a small rear-engined sports coupe called the 110 R which started production in 1970.
It was based on the 100 saloon from the sixties and arrived before the influx of front-wheel-drive hatchbacks that European manufacturers began to focus on developing in the late seventies.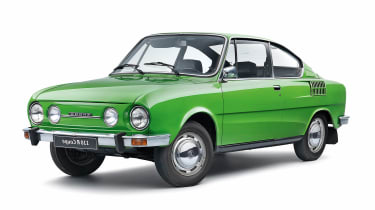 With the engine mounted in the rear, the 110 R shared handling characteristics with the infamous Porsche 911, although its performance figures didn't quite match up. It was powered by a 1.1-litre four-cylinder petrol engine, which delivered 62bhp.Skoda claimed it was capable of 0-62mph in a lengthy 18.5 seconds, and could only hit 90mph flat out.
Despite the modest power output, the 110 R was a tricky car to drive, thanks to its swing-axle rear suspension. With the engine positioned so far back in the car, the 110 R was prone to sudden lift-off oversteer which made it a handful on the road. But that didn't stop Skoda from developing the car to use in motorsport.
The 130 RS used a more potent 1.3-litre engine and transformed the car into a successful racer.
Do you like the look of our exclusive Skoda EV images? Let us know below...