Skodatown: behind the scenes at Skoda's Czech factory
We discover how Skoda revamped its factory to make the Enyaq iV and speak to some of the people who work there
Even before the days of Covid, the industrial town of Mlada Boleslav wouldn't have really featured on the list of prime destinations for UK travellers. Even those venturing to the Czech Republic would be more likely to take in the delights of cultured Prague instead. But for anyone interested in cars, just think of the city 30-odd miles north of the Czech capital as Skodatown, pure and simple.
Mlada's status as an industrial hub was formed long before the invention of the automobile; its position beside the Jizera river gave it a water source for everything from mills and breweries, to a textile factory that used to occupy the site of Skoda's current engine development division.
These days, though, the wider Skoda Auto factory and the surrounding suppliers and offices are simply crucial to Mlada. The town's overall population is around 44,000; the official employee tally in Skoda's facilities accounts for just over half of that figure. Skoda's impressive museum feels as much of a town centrepoint as the city hall or the castle.
So the decision to base Enyaq iV production at the same site as the likes of the Octavia, Fabia and Karoq is hugely significant for Mlada and the manufacturing staff in general.
It's a major step within the parent VW Group, too, because cars such as the VW ID.3, Audi Q4 e-tron and Cupra Born are all being made in a single plant in Zwickau. The Enyaq is the first pure-electric MEB car to be produced in a European factory outside of Germany. Mlada is the only site in the entire VW Group where conventionally powered models and new-generation EVs go down the same production line.
This capability didn't come cheaply; Skoda spent around 32million Euros (£27million) on the project. First, the Rapid model was switched from the Czech plant to a new home in Russia at the end of 2019, giving Skoda the space to make changes to the building, as well as altering the conveyor and reorganising the final assembly line.
Slotting an EV into a conventional factory – the same building, in fact, as the Octavia and Karoq – brought a number of challenges. The building and the infrastructure within it needed to be able to cope with heavier vehicles, because an Enyaq iV 80 weighs around 600kg more than even the most fully laden Octavia Estate. Extra robots had to be installed to lift the battery packs, which, again, are on a new level compared with a combustion engine, and the final floor assembly was automated to minimise interaction with high-voltage components.
Even elements like the Enyaq's head-up display unit had to be accommodated, because it needed a larger workstation for its calibration and adjustment. And the whole operation needed additional safety equipment, including more fireproofing and thermal imaging cameras to spot any manufacturing issues.
The onslaught of a global pandemic didn't help matters; it threatened the existing Octavia and Karoq production at a factory that was already operating at its maximum capacity. But despite Covid-19, the conversion process at Mlada Boleslav was completed on time in summer 2020, allowing pilot production of the Enyaq to start in November.
Partnership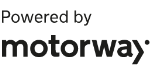 Need to sell your car?
Find your best offer from over 5,000+ dealers. It's that easy.
Now, thanks to the intricate reconfiguration, Mlada is capable of producing between 250 and 350 Enyaqs per day, while still retaining the flexibility to make Octavias and Karoqs alongside and among them. Given that the plant produced 480,000 vehicles in 2020, despite the pandemic and the Enyaq's set-up process, it's fair to say that Skodatown should be back up towards its 2019 record of 690,000 cars this year. As well as now being ready to react to what seems like a relentless switch in public demand towards electric vehicles.
What do the staff think of the development and the transition to electric, though? To gauge the mood we've spoken to four 'lifers' – Mlada Boleslav employees who've spent a total of more than 80 years working for Skoda between them – about how the brand's development and its first bespoke electric car will affect them and their colleagues.
How the Enyaq is built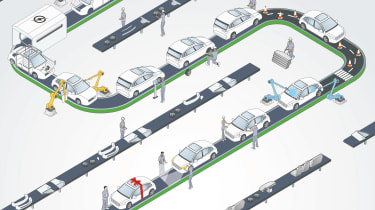 1. Assembly starts
The final assembly of the Enyaq happens in the same building in Mlada Boleslav as the Octavia. The process begins when the body arrives, freshly sprayed in the site's state-of-the-art, 215m Euros (£185m) paint facility. The car's doors are removed, because they're assembled separately and they'd only get in the way otherwise. It's at this point where basic components – everything from the sunroof (if specified) to seat belts – are installed.
2. Dashboard goes in
The Enyaq's dashboard lands in the car before the electric motor. It's inserted using a robot assistant. The wiring harness is also installed at this point, and the front and rear screens are bonded into place.
3. Chassis meets body
Only now does the Enyaq really become a proper car; the electric motor is pre-assembled into the chassis, which is then mated to the body.
4. Take a seat
The Enyaq has been a relatively empty shell so far, but now it's time for all of the seats to be fitted. The operating fluid is installed at this stage too (coolant only, given that it's an EV), and the pre-assembled doors are reattached to the body.
5. Ignition
With the basic systems connected, the car is switched on for the first time in what's known as "initiation". Factory workers install and configure all of the car's control software at this point.
6. Roll with it
It's time to check the Enyaq's suspension, and make sure it's properly aligned. After this has been done, the vehicle moves onto rollers to allow the brakes and the gear selection to be checked. Again, this is a simpler job because the Enyaq is auto-only.
7. Codename CP7A
This catchily named area is the first to be solely dedicated to checking over the vehicle – specifically the exterior and paint. Technicians look for any scratches and make sure no components have been accidentally damaged during assembly.
8. Behind the wheel
The Enyaq is ready to move under its own power (the battery was pre-installed with some charge) so it gets driven around a short test track. Engineers focus on a checklist of behaviours and listen out for any squeaks or rattles.
9. Wet wet wet
The car goes back onto a conveyor and is fed into a water test area. A series of nozzles spray liquid at the Enyaq from all angles, aiming to expose any weak spots in the seals and make sure no water gets through into the cabin.
10. Ready for you
Enyaqs now face two more checkpoints, called CP7 and CP8, before they can be signed off as ready for the customer. The technical items are all good to go by this point; technicians are looking for any flaws in the exterior and the cabin.
11. See the light
In the old days, this section, right at the end of the assembly line, focused solely on making sure the headlights were aligned. That still happens, but this is also where the assistance systems, including the car's radar and cameras, are calibrated.
12. Time to travel
The vehicle is now complete, and ready to be transported to its customer. A protective film and wheel covers are applied to ensure that the Enyaq arrives safely; these are then removed by the dealer during the car's pre-delivery inspection.
Meet the makers
Dana Plath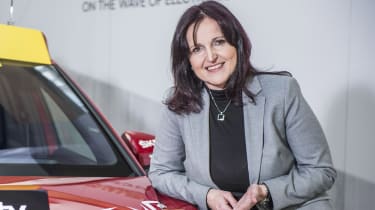 Head of Business Development, Sales (25 years with Skoda)
When did you join Skoda?
I joined Skoda straight after graduating from university in the nineties. For me, the company was at the top of my list of potential employers, even while I was studying. The brand has been with me since childhood. My family is a typical 'Skodian' family; my grandparents, parents and most of my relatives worked for Skoda and still do today.
How has your work evolved over those years?
It's changed a lot. When I started there were some computers, but the staff didn't have access to E-mail – something that is very hard to imagine today, especially for the younger generations. 
New technologies have made work much faster, and the Covid-19 pandemic has taken the world of work out of the office and into the home. These are challenges that all of us have to face these days. And finally, the responsibility I have has changed over the past 25 years. I've gone from being a team member responsible for projects to a leader with responsibility for 50 employees. 
What impact has your career at Skoda had on your life?
As a young woman, I accepted the opportunity to move to Volkswagen in Germany as part of Skoda's talent development programme. What was originally a three-year placement eventually turned into 15 years – an experience that made me feel at home both in the Czech Republic and Germany, and I made international friends for life. My daughter was brought up bilingual and has learned about both cultures – a great gift for life.
Why is Skoda so important not only to Mlada Boleslav but to the Czech Republic?
The facts are that Skoda is one of the most important employers here, and makes a significant contribution to the country's GDP. But there's also an emotional aspect. Skoda was founded by two Czechs and became successful through Czech ingenuity and Czech engineering. This spirit is still an essential feature of Skoda's culture today.
Has making an EV like the Enyaq in Mlada changed your work?
Yes, it has. My team and I are responsible for the market launch of EVs, and electrification means new equipment for charging, and staff training in the dealership network.
A customer purchasing an electric vehicle will often also be interested in other services, such as a charging card for public charging or a wallbox for charging at home. Such products and services have been developed by the Skoda sales team, and together, we make sure that the dealers explain and offer them to customers. 
We also know that some potential customers might be nervous about range, so we've developed a tool that allows people to enter their driving habits – mostly city, or motorway, for example – and then see the likely range of the electric car based on their behaviour.
Petra Meliška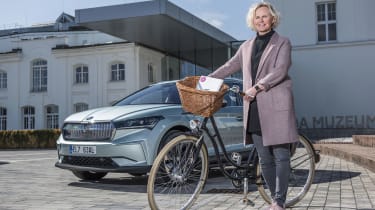 Head of recruitment and employer branding (14 years at Skoda)
When did you join Skoda?
I joined Skoda in 1995, four years after it was bought by the VW Group. At that time quite a few German managers already worked locally, and the company offered many attractive opportunities to people who spoke German. My first position was in international marketing and that was a whole new world of opportunities that I could only have dreamed of before. With several breaks – an assignment abroad, and maternity leave – I have stayed at Skoda until today. I have had an opportunity to work in a variety of positions in marketing, as well as PR and, currently, HR.
How has your work evolved over those years?
My work now is more systematic and process-driven. When I was starting my career here, the company was launching the Felicia; we sold 210,000 vehicles of that model, more than a third of them in the Czech Republic. These days we have 27 model options in the range, and we recently delivered more than a million cars for the sixth consecutive year. It means we really can't take the same approach to things as we did 25 years ago.
What impact has your career at Skoda had on your life?
I followed Skoda to Mlada Boleslav, and I'm now settled here with my family. I've met a lot of great people at the company over the years. Some of them have become friends and one of them has become my husband. I also feel privileged to meet and work with colleagues from abroad.
Why is Skoda so important not only to Mlada Boleslav but to the Czech Republic?
Our company, which is celebrating its 126th birthday this year, has given job opportunities to tens of thousands of Czechs. Generally, Czechs are proud of their ambassadors – like ice hockey player Jaromir Jagr, who has become an international megastar – and they are proud of Skoda, because they see Czech-made cars with the logo, all over the world.
Has making an EV like the Enyaq in Mlada changed your work?
I am responsible for recruitment and employer branding, and the profiles of candidates sought by the company are always changing. Electrical engineering experts and people with experience in electrification are now in great demand.
We also actively support technical education in the field of e-mobility to ensure that our teaching stays in line with the latest trends. We have developed new e-mobility workshops for our talent-management programmes (interns, trainees and PhD students) to make it possible for their participants to try out the Enyaq iV in full operation, including all its features and functions.
Lukáš Šustek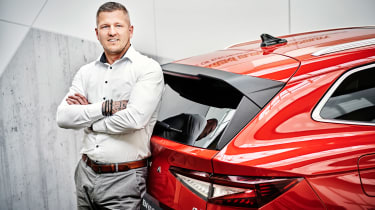 Assembly line controller (17 years with Skoda)
When did you join Skoda?
I grew up in Vrchlabí, the location of one of the Skoda production plants. I always liked the world of cars. This hobby of mine became the key factor in choosing my field of study, and I became part of the Skoda team right after leaving school in 2004.
How has your work evolved over those years?
When I started on the pedal assembly system as a production operator at the Vrchlabí plant in 2004, Skoda only offered a few basic models, and its annual production was half a million vehicles. Today we produce more than 900,000 cars in our local plants alone, and more than a million worldwide. A wide product range comes with an endless number of powertrains.
Now I am responsible for Skoda's largest assembly line. It is located in Mlada Boleslav, and its daily production is over 1,300 vehicles. Besides the Octavia, our best-seller, we also use this line to make our all-electric model: the Enyaq iV.
Digitisation and automation have led to revolutionary progress during the 17 years that I have been working here, and they are absolutely essential; they are one of the key tools in my work. When I think back to 2004, what I do now would have been considered science fiction at that time.
What impact has your career at Skoda had on your life?
Very strong, and I am grateful for that! I like change and permanent motion in my life. After starting my career at the Vrchlabí plant, I then moved to Kaluga, in Russia, where I spent five years working at the Skoda and VW factory.
My wife and I moved to Russia with our eight-month-old son, who spent most of his childhood there, and our daughter was born in Russia. My next mission was in Mlada Boleslav, the company headquarters, so we moved again. I have met many interesting colleagues, made new friends, came across various cultural differences and realised the importance of diversity during my assignment abroad.
I cooperated with people from all over the world, which gave me an opportunity to look at things from a distance, as well as loads of valuable experience.
Why is Skoda so important not only to Mlada Boleslav but to the Czech Republic?
I think there is a certain amount of patriotism in each of us. We are a small country whose people can do great things together, and the same goes for Skoda. We make more than one million vehicles a year, which are becoming increasingly popular and well known all over the world. We are highly competitive, and even beat much bigger manufacturers.
Most of our operations, from development to final production, take place in the Czech Republic, which, of course, has a positive economic impact. Skoda has long been the best employer in the country, and that undoubtedly has a positive impact on working environments in many other companies in the country.    
Has making an EV like the Enyaq in Mlada changed your work?
The entire automotive sector is going through an incredible transformation, and I think that the dynamics of this process are historically unprecedented. E-mobility comes with great demand for new know-how, and this applies to me personally, as well as my whole team. We need continuous training and continuous transformation of traditional competencies, and we need it fast.
Milan Dufek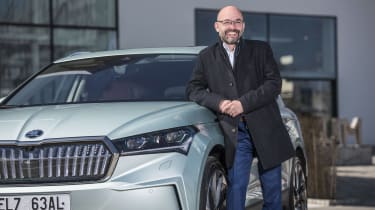 Quality assurance manager (29 years with Skoda)
When did you join Skoda?
I joined Skoda just at the time when the company was being taken over by the Volkswagen Group. I have been working here for 29 years now.
How has your work evolved over those years?
I've worked in several areas, from gearbox production to supply chain quality. Now I'm focused on the entire quality-management system.
What impact has your career at Skoda had on your life?
A very strong one. I have learned lots of things here, made many friends and travelled half the world. I've grown up here, really.
Why is Skoda so important not only to Mlada Boleslav but to the Czech Republic?
It's a top employer here, and many graduates from colleges and universities are keen to get a job at Skoda. Of course, there's also a long chain of contractors and suppliers, not only parts for the cars but also services. Our economic performance is key for the country; Skoda is a big exporter.
Has making an EV like the Enyaq in Mlada changed your work?
My responsibilities have not changed dramatically, but the quality department did have to introduce new testing and inspection procedures. I drive an Enyaq iV now but we had to learn the whole process of approving these new types of drivetrain, and build an internal charging infrastructure for the Mlada site.