Deal of the Day: Award-winning Skoda Octavia Estate for under £200 a month
One of our favourite cars - in spacious estate form – can cost you just £194 a month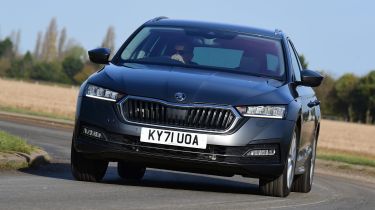 2022 Auto Express Award winner
Fleet-focussed SE Technology model available for private buyers
Two-year lease deal for £194 a month
The Skoda Octavia has long been one of our favourite cars, being named overall Car of the Year in 2020. We love the way it drives, the quality, the efficiency and the space - since its launch it's been one of our most recommended models.
Exactly the same rings true of the Octavia Estate - a truly brilliant estate car that blends the best bits of the hatchback with a massive luggage space of 640 litres that can rise to 1,700 litres with the back seats folded down. It's easy to use, too, with many of the Simply Clever features that Skoda has become known for.
We've found an incredible deal on the Octavia from leasing firm Ready2Lease. They're offering the fleet-focussed SE Technology model, with the excellent and efficient 148bhp 1.5-litre TSI engine, for just £194.33 a month on a two-year lease with a £2,331.98 down payment and a limit of 5,000 miles per year. Up the mileage limit to 8,000 miles and the monthly payment only increases to £200.57 with a £2,406.86 deposit - still a sensational deal.
The SE Technology is a model that's specifically aimed at company car drivers - and if this was a business lease saving on the VAT the costs would come down to £161.94 with a £1,943.31 deposit over two years and 5,000 miles. But Ready2Lease will lease this model to private buyers, too, who'll also benefit from the generous spec that includes smart 16-inch alloys, a 10-inch touchscreen infotainment system with navigation and smartphone connectivity, and front and rear parking sensors plus a whole host of safety features.
As with all our Deals of the Day, this is a great deal on a car we're happy to recommend and is chosen as a deal of the day by our team of independent experts. Terms and conditions will always apply, deals are subject to availability and prices are subject to change.
Get the Octavia Estate Deal of the Day here or take a look at our previous Deal of the Day...