Skoda Rapid Spaceback GreenLine review
The Skoda Rapid Spaceback Greenline aims to deliver efficiency and space at a price that's right
If you want a no-nonsense, efficient and practical hatch the Rapid Spaceback Greenline is well worth looking at. It may not be the most stylish option on the market but it is relatively cheap to buy and won't cost the earth to run. But if you're after a little more entertainment behind the wheel, the SEAT Leon costs only a fraction more with similar running costs.
Skoda is attempting to cater for all with the new Skoda Rapid and Rapid Spaceback ranges. Here we have the family-orientated and frugal Rapid Spaceback GreenLine, meaning improved running costs and a more appealing package for company car buyers.
Crucially for fleet buyers this GreenLine model now manages to squeeze itself into the tax-free motoring bracket with emissions of just 99g/km, alongside a BIK rating of just 14 per cent. It's one of 22 models from Skoda which emits 99g/km or less, with fuel-saving tech such as low rolling resistance tyres, brake energy recovery, stop/start and aero tweaks all fitted to help boost efficiency.
The GreenLine model is only available with the 89bhp 1.6-litre diesel engine. There are no mechanical changes and power is still transmitted via the same five-speed manual gearbox you'll find in the entry-level S model this fuel-sipping variant is based on.
The diesel motor clatters into life on start up and never really settles once on the move. The gearbox is light and accurate but the ride is a little on the firm side. That's not to say it is uncomfortable but the Rapid Spaceback is easily unsettled on uneven surfaces, with severe bumps in the road sending vibrations through the cabin.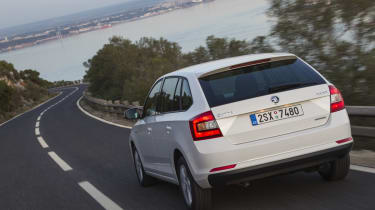 There are a few cheaper looking plastics and materials lurking inside as the spec is shared with the entry-level model but front fog lights, a trip computer, sunset glass, piano white inserts and alloy rather than steel wheels all come as an added bonus. The firmer tyre compound of the low rolling resistance tyres does little to help refinement, so if it's a comfortable and efficient cruiser you're after, the Ford Focus ECOnetic is a better option.
Yet, the tradeoff for a slightly compromised driving experience with any Skoda GreenLine model is huge gains in economy. Even with only minor changes Skoda has managed to eke out an extra 10mpg from the 1.6-litre diesel engine in the Rapid Spaceback, now at 74.3mpg. And that figure is more achievable than you may think as we managed an impressive 68.9mpg on our test route.
Better still, the Rapid Spaceback offers more passenger space, a considerably larger 415-litre boot and is better value for money than the Ford Focus and SEAT Leon, which have almost identical combined economy figures spec for spec.
Get our pick of the best hatchbacks and best estate cars on sale right now.