New Skoda Superb takes shape
An all-new Skoda Superb is on the way, with a smarter look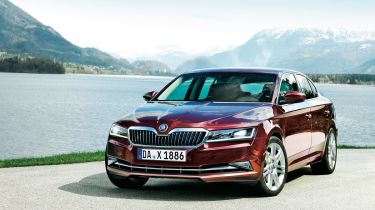 We've always been huge fans of the Skoda Superb, but it's never been the most stylish model on the road.
However, when the all-new third-generation car arrives in mid-2015, it should be much easier on the eye – as our exclusive image reveals.
Skoda's designers are believed to have gone down a more 'sculptural' route, with strong bulges and creases in the bonnet, a much stronger shoulderline along the length of the profile and a slightly lower and wider stance.
Our image shows the saloon model, which is expected to ditch the heavy and expensive dual-opening boot. An estate version will also be offered.
Based on the same MQB platform as the new VW Passat, but with a slightly longer wheelbase, the new Superb will feature even more interior space than the outgoing model.
At the top of the range, the thirsty 3.6-litre V6 will be killed off, although four-wheel drive will still be offered as an option on the higher-powered four-cylinder petrol and diesel engines.
Skoda says no hybrid models are in the product plan, either, for the time being at least.
Skoda's future line-up revealed
With plans to sell 1.5 million cars a year by 2018, Skoda has a host of new models on the way.
The first new model to be released will be the next Skoda Fabia, due in late 2014. The new Fabia is set to be the most distinctive modern Skoda yet, with a wide front grille, angular headlights and LED tail-lamps – but there won't be a sporty vRS version.
The sleek Skoda Octavia Coupe will be next to come out, due in early 2015. The Octavia's conservative styling will be reinterpreted into something much sharper for this new coupe.
In mid-2015 we should see the new Skoda Superb (above), followed by a new SUV city car. In early 2016 a larger SUV called the Snowman is expected, and finally in late 2016 we can expect to see the all-new Skoda Yeti.