SsangYong to change its name
Korean company wants to re-brand in a bid to improve its image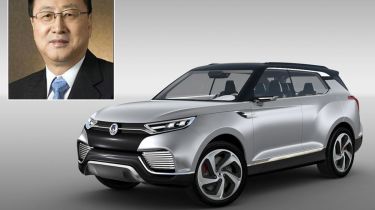 SsangYong has confirmed it will change its name in a dramatic bid to improve its image.
The company suggested it was considering this at the recent Delhi Motor Show and confirmed the rebranding at the Geneva Motor Show.
And the move could happen as early as next year.
Company president Yoo Il Lee told Auto Express that the brand accepted the name was not helping its reputation. The exercise is likely to see big improvements in the quality of the cars, and prices are likely to rise too.
Mr Lee said: "The name change will definitely happen. We are working on it but these things take time.
"We have to get consensus from the employees, the Koreans and it is a very expensive project."
And he admitted: "The SsangYong name has a more negative image than positive one, because it has been bankrupt five times.
"The SS and gg ending for British people in particular is a very difficult sound. The new name will be more global sounding."
Mr Lee ruled out naming the brand after parent company, Mahindra, but was specific about where he sees the brand is being pitched.
He said: "We are an SUV brand who will operate at the medium to lower level size."
The company unveiled its latest crossover concept at Geneva, the XLV seven-seater.
It previews a supermini-based production SUV that could debut at next year's Geneva event, and is a marked step up in quality for SsangYong. A bigger version is likely to follow in 2016, although both are likely to have only five seats.
And an insider said: "The rebranding could happen then. When you see a car like this, it's so different from the rest of the range that it would make sense for it to be the start of a new brand."