Tesla Model S based electric production car race series officially sanctioned by FIA
FIA gives green light to all-electric racing series to be contested by grid of 784bhp Tesla Model S P100Ds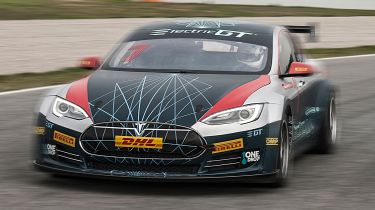 The forthcoming Electric Production Car Series has been officially sanctioned by the FIA - the governing body for world motorsport - ahead of its inaugural 2018 season.
The series will be contested by up to 20 identical, race-prepared Tesla Model S P100Ds, modified to produce 784bhp (585kW) and capable of 0-62mph in 2.1 seconds thanks to a vastly reduced kerbweight.
• Tesla Model S P100D race car revealed
Electric GT Holdings Inc. - the company behind the all-electric series - has also confirmed the sporting regulations for each race weekend, promising two practice sessions, a three-heat qualifying format and two 60km races - one to be held during the day and one at dusk.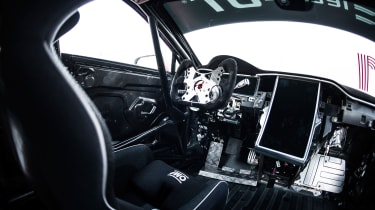 Drivers and teams will earn points using the same system deployed in Formula 1, with 25 points available for a race win, down to one point for 10th place.
However, bonus points will also be awarded for pole position, fastest race lap, and victory in what has been dubbed a 'Drift Off' competition.
Consisting of 'drifting challenges', this final stage will be contested by each weekend's two winning drivers, plus the two most popular drivers as voted by fans on social media.
Mark Gemmell, Electric GT Holdings Inc. CEO, said: "This is such an exciting day for us as we confirm that the Electric Production Car Series has been officially sanctioned by the FIA. We respect the FIA and we are honoured to have their support ahead of our inaugural season.
"We are also pleased to officially publish the sporting regulations for the Electric Production Car Series. We have put a lot of time into refining the regulations to allow for competitive and thrilling racing.
"With a three-heat qualifying system and two EPCS races, plus our eKarting and eSports rounds, fans will have a lot of racing action to get excited about."
While the inaugural season is set to take place this year, race dates have not yet been confirmed. The EPCS's website currently lists France, Italy, Germany and the UK among eight venues, with a ninth yet to be revealed.
Organisers are promising "a weekend-long festival of technology and innovation" at each event, with races set to be streamed online via Twitch, Facebook Live or YouTube.
The Electric Production Car Series follows Formula E as an all-electric racing series. Learn all about the latter here…