Free car finance calculator: compare UK used car finance quotes, fast
Our used car finance calculator tool lets you compare quotes from top UK lenders. Find out how much you could borrow for your next car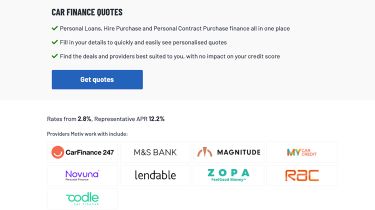 Car finance isn't the most thrilling part of the car buying process, but it's an essential one for many buyers. To help you save time and money, Auto Express has partnered with the car finance experts at Motiv to bring you our used car finance calculator tool. 
It's very simple, rather than spending time collecting car finance quotes from many sources, our tool lets you compare used car finance and loan quotes from the wide selection of top UK providers who work with Motiv. You can then choose the cheapest deal, or the one that best suits your requirements, and arrange it with the lender. When you go searching for your used car, you'll know exactly how much you can borrow and what it's going to cost.
Here's how to use it…
Complete the form and get your loan and finance offers.
Compare the finance quotes and choose the best deal.
Find your used car, already knowing how much you can borrow.
There's no obligation and no impact on your credit score.  
Get started with our used car finance calculator now…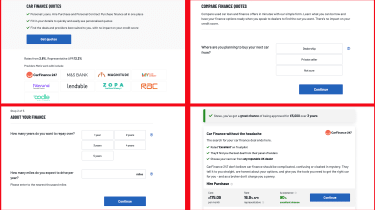 How does the used car finance calculator work?
All you need to do is fill out the easy car finance calculator form, and the tool takes care of the rest. It will find you personalised quotes from the network of leading UK finance providers working with Motiv, including the likes of Moneybarn, RAC, My Car Credit, Bamboo Paragon, Zopa, Creditplus, Oodle and CarFinance247. 
You'll be presented with different car finance options as well so you can compare personal loans, Hire Purchase (HP) and Personal Contract Purchase (PCP) deals, to work out which type suits you best. 
You can get finance quotes based on a specific used car you're looking to buy or, if you don't have a car in mind, get your quotes based on the value of the vehicle you're looking for. That way you'll go into your search knowing how much you'll be able to borrow. Even if you have a bad credit rating, Motiv can find you a deal. 
When you're ready, you can go directly to the finance provider and arrange the deal, or use the tool's finance quotes to negotiate with the dealer once you've found your ideal car.
Why should I use the used car finance calculator?
We've joined forces with Motiv car finance to build our car finance calculator tool around the aim of making your used car buying journey easier. It's a comparison tool that saves you the time and effort of dealing with multiple finance providers, while also giving you an overview of the market so you can buy with confidence knowing that you're getting a good deal on your used car.
The tool lets you compare finance quotes, serving up different types of deals from different providers. Then it's up to you what you do next.
The wide range of lenders included and the fact that you're dealing with them directly, means there's a good chance that the deals will be better than those offered by a dealer. You can contact the lender through the tool and take up their offer, or use the information as a basis to begin your used car search knowing how much you will be able to borrow.  
Partnership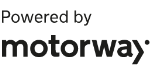 Need to sell your car?
Find your best offer from over 5,000+ dealers. It's that easy.
The golden rule with car finance is to always consider your options carefully and work out the best way to proceed based on the total cost of the deal and your own finances. Lower monthly payments might not be the right option for everyone, as paying a little more to clear the debt more quickly could be cheaper overall.
In all cases, there is no obligation to proceed with any of the car finance deals you're offered in the tool. There is also no impact at all on your credit score.
Click here to input your details and get your quotes…  
Find out more about car finance
Car finance might not be the most exciting subject, but there's nothing like getting a great deal on your next car so it's an important means to an end. We have a whole library of car finance content to help you buy your next car in the most affordable way possible. Just click the links below…
Essential car finance
Your questions answered
Car finance deals