Toyota Auris Hybrid vs rivals
The new Toyota Auris Hybrid takes on two efficient diesel rivals, in the form of the Mk7 Volkswagen Golf and Hyundai i30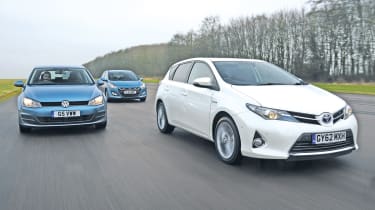 Is it time for the Toyota Auris to shine? The brand says the latest model adds "emotional appeal" to the car's traditional strengths of quality and reliability.
But the company hasn't abandoned its commitment to hybrid technology, either: the 1.8-litre petrol-electric model is set to be the biggest seller. With CO2 emissions of just 91g/km and claimed fuel economy of more than 70mpg, it promises to be as cheap to run as a diesel.
Toyota can't afford to celebrate yet, though, as the Auris hits showrooms in the UK at the same time as the new VW Golf – a car that has long set the standards for desirability, image and dynamic polish.
We test the 1.6-litre TDI version of the Golf, which offers road tax-exempt CO2 emissions of only 99g/km.
As well as taking on the Volkswagen, the new Auris needs to win back some of Toyota's traditional customers from the ever-improving Korean brands. So it also faces the well built and great-value Hyundai i30 1.6 CRDi Active BlueDrive. Can the Toyota finally appeal to the heart as well as the head?
Verdict
Just like the last model, the new Auris is a solid, dependable and sensible family hatchback. But Toyota has failed to achieve its goal of making this car more entertaining and desirable.
VW's new Golf is better to drive, better inside and better to look at. And while choosing the Auris Hybrid is a sensible way of lowering your company car tax bills, the CVT gearbox seriously compromises refinement and driver enjoyment.
The 1.6-litre diesel Golf also emits less than 100g/km of CO2 and averaged 50mpg on our test, so it offers efficiency without similar sacrifices. Plus, the VW has better residual value predictions and a bigger boot – but most importantly of all, it sets new class standards for cabin quality, refinement and driver appeal.
The Hyundai isn't as good to drive as the Golf and its cabin lacks the VW's upmarket feel, but it's roomy and well built, and quite cheap to buy. Add in another sub-100g/km CO2 emissions figure, and it just edges the new Auris for second place in this test.