'Hybrid-only Toyota Corolla shows the market is shifting towards electrification'
Deputy editor John McIlroy thinks more and more people in the UK are now willing to give electrified vehicles a try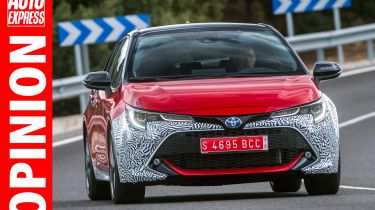 It may be a name from the past as far as UK buyers are concerned, but the reborn Toyota Corolla has every chance of looking bang up to date when it lands in British showrooms next spring.
The Corolla is Toyota's best crack at a proper Ford Focus and Volkswagen Golf rival for a generation – and not just because the Japanese manufacturer has at last delivered the sort of decent chassis that family car buyers demand. The fact that it's built in Britain isn't the key factor, either.
• New Toyota Corolla prototype review
No, the Corolla feels like the right car at the right time because, while there is technically a 1.2-litre pure-petrol version available in some other markets, UK Toyota dealers won't be stocking it or selling it – officially. The new model's line-up is exclusively electrified, therefore, and mainly based on a 1.8-litre hybrid powertrain that has a lot in common with that in the Prius and C-HR.
However, the scale of Toyota's ambition (and opportunity) with the Corolla is really demonstrated by the new 177bhp 2.0-litre hybrid that we've tried this week. Prices and specs mean that it may not ultimately prove to be the pick of the range, but the fact that it has been created at all, specifically for European customers who may consider switching from a 150bhp-odd turbo petrol or even a 2.0 diesel, shows Toyota's engineers are well tuned to the way the new-car market is shifting.
Will this all-hybrid hatch succeed where its predecessors failed? There's no doubt that Toyota's hybrid powertrain still requires a different driving technique. But the ever-increasing number of people looking for reviews of electrified vehicles on our website – and our recently launched sister site DrivingElectric.com – suggests more potential customers than ever are willing to give it a try.
Click here for our list of the top 10 hybrid cars currently on sale...