Geneva debut for Toyota Proace Verso MPV
Van-based Toyota Proace Verso MPV joins Citroen and Peugeot brothers on Geneva stands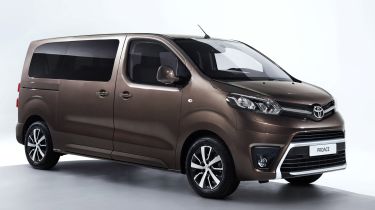 The 2016 Geneva Motor Show will see the reveal of the new Toyota Proace Verso, a nine-seater MPV based on the new Proace van. It will go on sale later on in the year, and joins the Citroen SpaceTourer and Peugeot Traveller at the show, with all three based on the same platform.
There are no official details on the Proace Verso yet, but like its sister vans we expect it will be available in three lengths: 4.6m, 4.95m or 5.3m. These sizes enable either five, seven, eight or nine seats, with up to 4,900 litres of space in the back.
Like the Peugeot and Citroen, the Proace Verso is likely to get Lane Departure Warning, Active Cruise Control, Collision Alert and Active Safety Braking as part of a comprehensive safety package.
• Best 8-seater cars to buy now
Engines are expected to include two 1.6-litre diesels with 94bhp and 113bhp, returning 51.3mpg and 55.3mpg respectively in the Peugeot Traveller - and we don't expect that to change much in the Proace Verso. A stop-start version of the lower-powered engine will improve that to 54.3mpg as well, while CO2 emissions range from 133g/km to 144g/km.
There should also be the same 2.0-litre diesels with 148bhp and 178bhp as the Traveller, emitting 139g/km and 151g/km of CO2 in that model. Economy of 53.2mpg and 48.7mpg should carry over into the Toyota as well.
Apple CarPlay and MirrorLink are expected to be available on the equipment list, with a seven-inch tablet style touchscreen on the dashboard. A 180 degree parking camera will use that display as well.
See more from the Geneva Motor Show 2016 on our round-up page.