Toyota RAV4 vs rivals
We see if the all-new Toyota RAV4 can beat Ford and Mazda to the top of the SUV class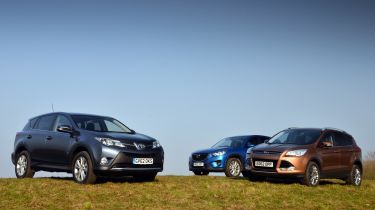 Buyers of compact SUVs are a demanding bunch. Not only do they want traditionally rugged off-roader looks and the security of four-wheel drive, they also require low running costs, agile handling and the sort of upmarket cabin usually found in an executive saloon.
As a result, Toyota has pulled out all the stops for its all-new RAV4. The latest SUV is the fourth-generation model, and is bigger than before, with a high-quality interior and a sophisticated four-wheel-drive system that's been designed to boost efficiency.
Yet the Toyota isn't the only new arrival in this class, because Ford has just pulled the wraps off its new Kuga. This Mk2 model promises to combine the arresting looks and sharp driving dynamics of its predecessor with a step up in interior space and equipment, as well as stronger efficiency and a lower price than before.
Yet before either of our newcomers can claim class honours, they must face our current champ: the Mazda CX-5. Thanks to its efficiency-enhancing SkyActiv tech and superb driving experience, this hugely desirable four-wheel drive still sets the benchmark.
Verdict
So has Toyota rediscovered the form that made the original RAV4 such a hit? Well, the latest car is one of the most practical compact SUVs you can buy, while refinement is top notch and the cabin feels a cut above its predecessor's.
It's also very capable off-road, well equipped and covered by a generous warranty. However, there's no getting away from the disappointing dynamics on the road. Not only does it lack the confidence-inspiring handling of its rivals, it's hobbled by a clunky gearshift and numb steering. Factor in its awkward looks and poor cabin quality, and the Toyota is just pipped by the Ford.
The Kuga is far more planted on the road than the RAV4, while its value price and decent standard kit deliver plenty of showroom appeal. It's also reasonably practical and comfortable – although poor motorway refinement is an issue.
Yet neither car has done enough to topple the Mazda. It's the most expensive choice, but it has the most equipment on board and will cost less to run. Add a fun driving experience and superb pace, and the 4WD CX-5 is still king of the hill.