Toyota Verso vs rivals
The revised Toyota Verso takes on the leading class contenders from Renault and Mazda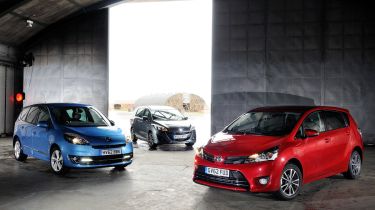 With a host of talented cars vying for sales success in the compact MPV class, it's hard to stand out from the throng. For that reason, the worthy but dull Toyota Verso has failed to make an impact so far. So, in an effort to revive its fortunes, Toyota has introduced an updated version.
The new Verso gets front-end styling inspired by the recently launched Auris, while updates to the interior and engine range give it greater appeal. So is that enough to win over buyers? In this test, we try the seven-seat Verso 2.0 D-4D in Icon trim against two big rivals.
First up is the Renault Grand Scenic. The seven-seat MPV mixes efficient diesel engines with a generous standard equipment list and plenty of very practical interior touches. We drove the 1.5 dCi Stop/Start in Dynamique TomTom specification.
Then we have the Mazda 5, which comes with sliding doors and a sharp chassis that gives it a unique edge in the class. Mazda recently pared the range down to a single special-edition Venture model and we've tried it here with a 1.6-litre diesel engine.
Verdict
Toyota has done a great job updating the Verso. It now looks sharper than before, while a revised, more efficient 2.0-litre diesel engine means it's definitely worth a look if you're in the market for a seven-seat MPV.
It's certainly done enough to push the Mazda into third in this test. While the sliding doors add a versatile touch, the 5 is really a six-seater with an occasional seventh seat. And the hard, shiny interior plastics give it a very dated feel in this company. It's still sporty to drive and the 1.6-litre diesel performs well, but it's more polluting and less economical than either of the rival models tested here.
That leaves the Verso and the Renault Grand Scenic to fight it out for victory – and it's a pretty close call between the two. While the Renault is slower than the Toyota, it's more economical. And although the Scenic holds the advantage for luggage space, the Verso's back seats are easier to move and fold. In the end, the Scenic takes victory on account of its greater space and practicality.