Toyota Verso-S vs rivals
Supermini-MPVs are the talk of the town, offering practicality in a small package. Is new Toyota Verso-S the best of the breed?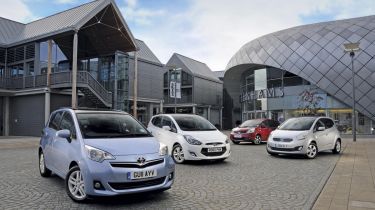 The traditional saying that small is beautiful has never been more appropriate – especially in the crowded supermini-MPV market. With fuel prices threatening to spiral out of control, smaller cars come with the promise of lower running costs – and these high-street heroes can multi-task with the best of them.
Their tall bodies provide the interior space of a compact family car, yet these vehicles are barely bigger on the outside than conventional superminis. Inside, flexible seats deliver the kind of versatility buyers of regular hatchbacks can only dream of. Toyota is the latest manufacturer to join the small car fray, with the Verso-S.
The Japanese brand is on the comeback trail after a year to forget in 2010, so does the new model have what it takes? There's only one engine available – a 1.33-litre petrol unit – and two trim specifications, and we put the flagship T Spirit to the test here.
Its rivals all boast larger 1.4-litre engines, but can top-of-the-range versions of the Hyundai ix20, Nissan Note and Kia Venga match the Verso-S in the battle for honours? The bad news for Toyota bosses is that all three competitors have enjoyed top ranking in this sector before, so there isn't a weak link...
Verdict
With three former class favourites to cope with, the Toyota Verso-S faced an uphill battle in this test – and it didn't come out on top. Our main criticism concerns its £15,745 price. It is undercut by all its rivals here by more than £1,300 – a significant sum. Also, the inflexible interior, bland design and lacklustre dynamics leave the new Verso-S struggling to appeal beyond existing fans of the brand. So the Toyota is at the bottom of the pecking order – and the Kia Venga is next to fall. Its impressive warranty and spacious interior are big pluses, but its rivals are more fuel efficient, cheaper to buy and provide greater comfort. The Nissan Note finishes in second. It's smaller on the inside than the Kia and Hyundai, but its sliding rear seats help make the most of the available space, and it comes extremely well equipped. Top of the pile is the Hyundai. Its hugely competitive price and five-year Triple Care package hold obvious appeal, and its practical cabin is among the best here. Yet what marks the ix20 out in this company is the grown-up feel provided by its classy interior design and smart exterior.