1. Vauxhall Ampera
The Vauxhall Ampera is a range-extender electric car that mixes sharp looks with comfort and refinement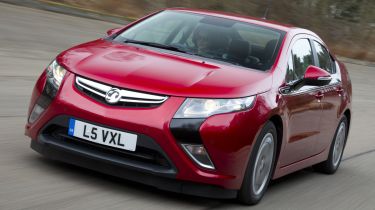 The Vauxhall Ampera, and its sister car the Chevrolet Volt, set a new benchmark for battery vehicles when they emerged in 2011. The addition of a petrol engine that acts as a generator to charge the battery on the move eliminated the range anxiety normally associated with electric drive.
The Ampera is built in the US alongside the Volt, and Vauxhall offers two models in the UK: the Positiv and the Electron. It rivals hybrid cars like the Toyota Prius, electric cars like the Nissan Leaf and efficient diesel saloons, like the BMW 320d ED. The mix of sharp, aero-dynamic styling and spacious interior space make the Ampera an interesting alternative to more conventional family car options.  
The Ampera is powered by a 85bhp 1.4-litre petrol engine and a 148bhp electric motor. Despite the hi-tech running gear, there's nothing intimidating about it from behind the wheel. 
Press the start button, and you'll hear a Star Trek-style swoosh through the speakers to let you know it's ready to roll (there's a similar shutdown noise when you turn it off). Then simply engage drive, release the electric parking brake, and you're away.
It does this in complete silence when in full electric mode, but if you need the 1.4-litre petrol generator, it hums along quietly. Cruising comfort is the Ampera's forte, and the ride is comfortable too, with only big bumps unsettling it.
The Vauxhall's economy will hinge on the type of driving you do, although its larger fuel tank means you can easily travel over long distances. If you use the car on the motorway, there's a handy hold function that allows you to save the battery charge for city use, rather than wasting it on high-speed journeys. 
It's capable of returning fuel economy of up to 235mpg and CO2 emissions of only 27g/km from its petrol-electric powertrain - although expect around 40mpg on motorway trips.
Vauxhall claims that it's capable of travelling on pure electric for up to 50 miles, at which point the petrol engine kicks in to increase the total range to more than 300 miles. A full charge will take four hours and should cost around £1.