Vauxhall Corsa automatic
What to look out for if you're after a Vauxhall Corsa with an automatic gearbox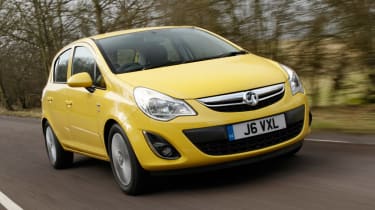 The Vauxhall Corsa automatic has a jerky gearbox and lags behind its rivals in many areas, so it's hard to recommend - unless you get a great deal on the price.
The Vauxhall Corsa has been around for a while now - it was launched in 2006 - but while there are plenty of newer and more stylish models around, the Corsa still scores well for its quality, and it's reasonably well priced, too.
There are a wide variety of models available, although if you want an automatic gearbox, your engine choices are very limited. Vauxhall offers its Easytronic automated manual on Corsas powered by the 1.2 VVT petrol, while 1.4 VVT petrol cars get a four-speed auto. Unfortunately, there's no auto option for any of the diesel models.
Despite feeling its age, the Vauxhall Corsa still has an eye-catching design, a decent interior and plenty of big-car features. The Corsa still looks reasonably fresh thanks to its swept back headlamps, rakish nose and neat detailing. The five-door looks a bit square, but the three-door has a rakish roofline and steeply angled tailgate.
More reviews for Hatchback
The Vauxhall Corsa automatic is only available with two engines, but there are a variety of trim levels on offer. These include sporty SRi and SXi versions, while Energy, Excite and the aptly named Limited Edition special editions offer reasonable kit.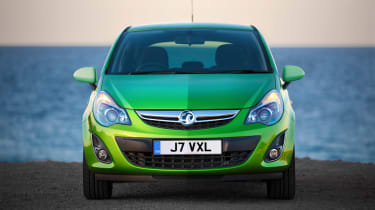 The entry-level Vauxhall Corsa S is also available with the auto box, although you have to upgrade to optional air-conditioning, and you can only get the 1.2 VVT petrol, while mid-range cars add 16-inch alloys, front fog lights, steering-wheel mounted controls, heated door mirrors and Bluetooth connectivity. The higher-end Vauxhall Corsa SE comes with big-car features like a heated leather steering wheel, heated seats and cruise control, as well as automatic lights and wipers.
The Vauxhall Corsa really shows its age when it comes to driving as a result of its lifeless steering, slow responses and average front-end grip – and the auto gearboxes do nothing to help. The 1.2 Easytronic uses an automated single clutch system, which requires a special technique when changing gears.
While most autos, Corsa 1.4 included, simply change gear slowly but without drama, the Easytronic is very jerky unless you lift off the throttle and allow the gearbox to shift up a gear. It can be very frustrating, and of course blunts the 1.2-litre engine's already modest performance even further.
The lacklustre driving dynamics are further hampered on the SRi and SXi models by a ride that's neither firm enough to be sporty nor supple enough to be comfortable.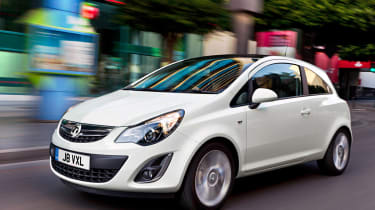 At least the petrol engines are smooth, although the 84bhp 1.2-litre and 1.4-litre engine with 98bhp are penalized by high emissions when you add the auto option. It's not all bad news, though, and the Corsa's comfortable driving position, light controls and compact dimensions ensure it's a stress-free urban runabout.
As the Vauxhall Corsa has sold in such big numbers, most of the glitches and bugs have now been ironed out. What's more, the first owner of the car benefits from a unique warranty that lasts the lifetime of the car, or up to 100,000 miles.
It also has a five-star Euro NCAP crash test result. Most models get six airbags as standard, but curtain and side bags are only available as an option on entry-level S trim, while electronic stability control is only available as an expensive option.
Practicality is one of the Corsa's trump cards, as it's one of the most spacious cars in the supermini class. Opening the tailgate reveals a low load lip and a 285-litre boot. Fold the rear bench and capacity increases to 1,100 litres, or 1,050 in the three-door.
A false boot floor provides extra flexibility, but it's only available as an option on higher specification versions. As is the clever bicycle rack, that slides out from behind the rear number plate at the touch of a button. There is a decent amount of head and legroom for rear seat passengers, and the cabin is packed with useful storage.