Volkswagen ID.Buzz pickup truck filed as a patent
Volkswagen is looking into creating a pickup version of its all-electric ID.Buzz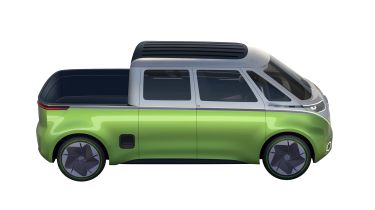 We've seen the Volkswagen ID.Buzz launch this year in MPV and Cargo van guise, but there could soon be a pickup truck iteration of VW's retro-styled, practical EV. The German giant has filed a patent which shows an image of the ID.Buzz converted into a truck and it appears to be an edited picture of the one shared on April 27 by VW, celebrating World Design day.
Scott Keogh, CEO of VW's new Scout brand, has been tasked with producing an electric pickup truck for the US market to rival the likes of the Rivian R1T and the Ford F-150 Lightning. However, it's not known how much input the Scout brand will have on the ID.Buzz pickup, if any.  
Volkswagen has also just released the second-generation Amarok which could potentially sit in the same price bracket as an ID.Buzz pickup. However there are no plans currently for an hybrid Amarok or a fully-electrified Amarok in future, so the ID.Buzz truck could be positioned as the pure-electric alternative.   
As for the powertrain, we would expect the same 82kWh battery pack found in the ID.Buzz. In the MPV and Cargo, power is sent to a rear-mounted 201bhp electric motor, although VW has said it'll bring a GTX version (most likely with four-wheel drive) to the ID.Buzz range, which would better suit the off-road style of the pickup variant. The 258-mile maximum range could take a hit with an open truck bed not ideally suited for aerodynamics. 
Volkswagen hasn't delved into the pickup truck segment too often, but the original Type 2 bus the (inspiration behind the ID.Buzz) featured flat-bed truck variants in both single-cab or double cab form. The patent image above shows a double cab, but there's a possibility the firm could also bring out a cheaper single-cab model as well. 
Now check out the first electric pickup truck on sale in the UK - the Maxus T90EV...