"Apologies from Volkswagen mean little at times like this"
Worldwide damage limitation in the wake of the VW scandal won't come cheap, says Mike Rutherford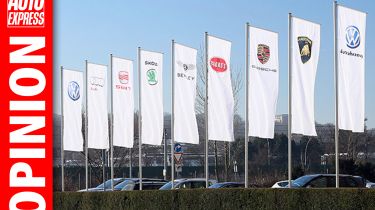 It's been just over a month since the public first heard of the Volkswagen scandal. And although the beleaguered company repeatedly insists that it's "working at full speed on a solution", it's not moving fast enough. Also, it can forget about "a solution" and concentrate instead on delivering solutions. Lots of them – like, now. 
There's talk, but comparatively little positive action from the firm that's surely required to immediately do more – and spend more – to appease cheated customers, embark on the rebirth of the badge and take practical steps to redeem itself. 
• The latest updates on the Volkswagen 'dieselgate' scandal
Apologies mean little at times like this – after deliberate cheating has occurred. Yet an expression of deep regret wouldn't go amiss, along with a plea for forgiveness and a cast-iron guarantee in its corporate constitution that customers can never and will never be intentionally cheated again.
The road to redemption has to include an automatic buy-back offer (based on independent, mid-September 2015 values plus 10 per cent) to owners of vehicles with cheat engines. And they're also owed refunds on their fuel overspends, caused if engines drank more diesel than spec sheets claimed.
Those who keep their vehicles and go with the recall flow deserve courtesy cars or vans of the same or higher trim level and value. Another must is a 10-year written guarantee that potential cheat-related MoT failures will be put right – at the VW Group's expense.
A VW-funded charitable organisation dedicated to promoting cleaner air and consumer protection, while at the same time reducing corporate cons and car showroom swindles, would help, too.
• Auto Express' reaction to the Volkswagen scandal
And at least one VW brand could be sold off, with the proceeds being ring-fenced and used solely to compensate those who've been duped.
The Group has around £20billion in the bank, yet the enormity of the debacle means this may not be enough to buy its way out of such a mess. The cost of edging VW closer to normality could be nearer £100bn.
The auctioning off of a successful brand and factory would help in this respect. As would a share of the royalties from the VW scandal movie that Hollywood and Leonardo DiCaprio are understood to be making. 
As VW is about to discover, worldwide damage limitation, litigation, compensation, reparation and redemption doesn't come cheap.
What do you think Volkswagen should do to rectify their mistakes? Let us know below...