New VW electric car tech set for Paris Motor Show with 370-mile range target
Huge 600km (372 mile) range targeted for future Volkswagen EVs, while costs will drop to similar levels as petrol and diesel vehicle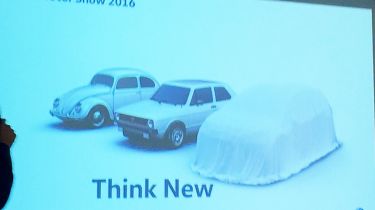 One year on from the emissions scandal and VW is making bold claims about its future EVs as it targets a fully electric range of up to 600km (372 miles). VW's lineup of all-new electric vehicles will begin production in 2019 and go on sale the following year. We'll get our first look at the Paris Motor Show later this month, in the shape of a new electric concept car from the brand.
The new VW EV will be based on a new platform called MEB developed exclusively for electric cars using lithium-ion batteries. Teased in an image that shows a covered car next to a Beetle and Golf Mk1 during a press conference, the concept model looks set to be a revolutionary step in VW's production development. 
• New Volkswagen XL3 hybrid to target Toyota Prius
Speaking at VW's Wolfsburg HQ, Sales and Marketing boss Jürgen Stackmann told Auto Express: "We regard electric mobility at VW as a key positioning item for the future and believe VW will be a major player in this field for the future. We see a mega challenge to do this in a short time."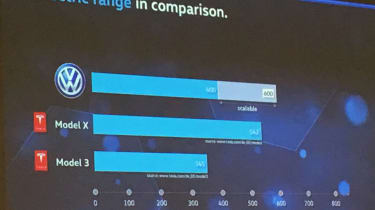 At the conference a slide was flashed up indicating where VW's range of new EV's would sit against rivals. A minimum range of 400km (248 miles) appears to be what VW is targeting. This is likely to be for small A and B segment cars, while the 'scalable' range tops out at 600km (372 miles). VW also confirmed EVs would be developed for 'big growing segments' indicating that the 600km range is likely to be reserved for SUVs that can accommodate the larger battery.
By the time VW's first EV goes into production in 2019, the brand is also confident that the production and manufacturing costs of electric vehicles can be dramatically reduced compared to what they are today. It's likely these cost savings will be passed onto the consumer so VW can market and sell future EVs at a more accessible price point, similar to the cost of a conventional petrol or diesel vehicle.
• Paris Motor Show 2016: preview
Currently, assembling an e-Golf compared to a diesel-powered equivalent takes 60 to 90 minutes longer, while the cost of the assembly process is also 15 per cent higher. VW bosses also claimed that the cost of the lithium-ion battery also has the potential to be reduced by around 30 or 40 per cent. 
What do you think of Volkswagen's electric car plans? Let us know in the comments...