Volkswagen eR1 concept revealed as all-electric race ready monster
Volkswagen has shoehorned the all-electric powertrain from the record-setting ID.R into its Golf TCR racer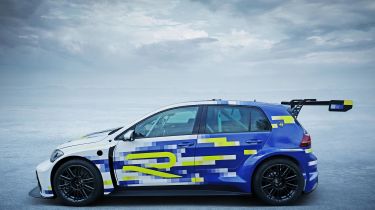 Volkswagen has unveiled a new all-electric race ready concept car based on the Golf at the GP Ice Race in Zell am See, Austria. 
Called the eR1, it uses the same shell as the brand's Golf Touring Car Racer, married to the four-wheel-drive electric powertrain as the record-setting ID.R track monster.
• Best electric cars on sale now
It's described as an "ambassador for future performance cars for Volkswagen R," which hints at the arrival of a performance version of the all-electric ID.3. The car has also been used as a development mule in private testing, to develop the ID.R's chassis and powertrain ahead of its record breaking run at the Pikes Peak Hill Climb in 2018.
Volkswagen is yet to confirm any performance figures for the eR1. All we know is that it uses a variant of the ID.R's twin-motor, four-wheel-drive electric powertrain. Assuming drivetrain's the specs haven't changed over the record-setting hill climb racer, however, the eR1 should develop 670bhp and 650Nm of torque.
The boss of Volkswagen R, Jost Capito, said the eR1 will be used to advertise Volkswagen's global e-mobility strategy in a series of promotion events and videos. In each appearance, it will be driven by American rallycross champion Tanner Foust, who has won five WRX championships behind the wheel of a highly modified Volkswagen Beetle.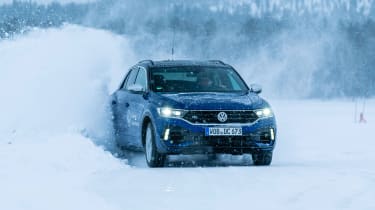 Capito added that the eR1 was not built to comply with any specific racing regulations – although he said the car is close in performance and specification for a rallycross Supercar. He said: "Working without rules and restrictions like this is what you need to do to push the envelope of electric technology.
"In a series like electric touring car racing or Formula E, a lot of the technology is frozen – so while championships like that may be good for product placement and marketing, we're not looking at them right now." Capito also confirmed that the "1" in Volkswagen's "eR1" moniker indicates there will be a follow-up prototype. "There will be more," he said, "we just don't know what comes next yet."
Finally, Jost revealed that the data gathered from the eR1 test mule and the ID.R racer will be used to develop Volkswagen's forthcoming high-performance version of the ID.3 hatchback. Jurgen Stackmann, Volkswagen's Sales and Marketing board member, hinted to Auto Express at last year's Frankfurt Motor Show that the hot Golf-sized EV could arrive within the next five years.
What do you make of Volkswagen's eR1 test mule? Let us know in the comments section below…