New Volkswagen ID.3 R to feature ID.R battery technology
Volkswagen's forthcoming performance version of the ID.3 hatchback will use technology developed from the ID.R motorsport project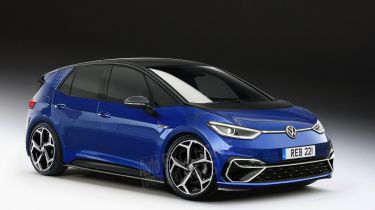 Volkswagen has revealed that it will draw on the expertise of its motorsport division to develop a drivetrain for the forthcoming ID.3 R electric hot hatchback. The brand will apply the knowledge gained from the ID.R racer project to design a cell suitable for use in its high- performance road cars.
Late last year, Volkswagen confirmed it was "actively considering" a high-performance variant of the ID.3. When it eventually arrives, it'll be based on the same MEB platform as the standard-issue electric hatch, but feature a more potent electric drivetrain, supported by a more powerful, in-house developed battery pack.
• Volkswagen electric supermini range due in 2023
Speaking at the GP Ice Race in Zell am See, Austria, Volkswagen R boss Jost Capito said: "I believe that our Motorsport guys doing their own batteries in-house is a big advantage we have; brands competing in series like Formula E are given a standard battery. But it's not just about the battery itself – it's how the battery is run and how they get power to the motors.
"It's easy to get the power output of an electric motor to the level you want – so it's batteries, battery management and cooling that will be the big differentiators when it comes to high-performance electric road cars."
Our exclusive image shows how an ID.3 R could look with the largest 21-inch wheels that the ID.3's chassis can accommodate. We expect that Volkswagen will turn the car into an electric hot hatch by adding a small electric front motor, making it four-wheel-drive – the most common transmission type for Volkswagen R models.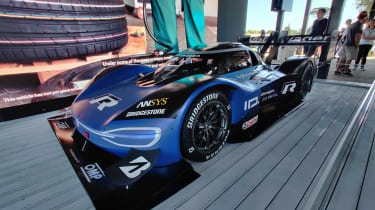 Such a move would also allow Volkswagen to harness the marketing power of its track-only electric projects, such as the ID.R hill-climb monster and the recently unveiled eR1 development mule. The boss of Volkswagen R, Jost Capito, has confirmed that the latter car will soon appear in a series of promotional events and videos, driven by American rallycross champion Tanner Foust.
However, Capito said the performance parameters of the new ID.3 R are yet to be finalised – and that they won't necessarily match up to the equivalent internal combustion-engined Volkswagen T-Roc R or Mk8 Golf R.
"It's still being defined," he said, "It won't be a straight copy of what we have now. There might be things that are less exciting, things that are more exciting. But what we want to keep doing is having exciting products, it just might be a different excitement to what we have now, but it has to be something that car enthusiasts still like.
"We'll continue the philosophy of basing R models on standard Volkswagen production cars. So we'll see what the MEB platform can give us and what technology the ID.R can give us and then see what package we can do. 
"We believe you need the feeling of driving a car; 0–60mph times are overrated, because you do it maybe once or twice and it's done. What you need is good 60–120mph and 80-120mph acceleration – and we have to consider range and charging times, too."
The future of Volkswagen R
Speaking to Auto Express at the 2019 Frankfurt Motor Show, Jurgen Stackmann, Volkswagen's Member of the Board of Management for Sales and Marketing, stated that the company's performance sub-brand will have to focus on electrification if it is to survive.
Partnership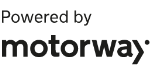 Need to sell your car?
Find your best offer from over 5,000+ dealers. It's that easy.
He said: "If there is a future for R, it must be electric. It's very simple. We're really thinking what to do with these cars, because if you're on the way to zero emissions it's hard to imagine that you load the world with more powerful cars.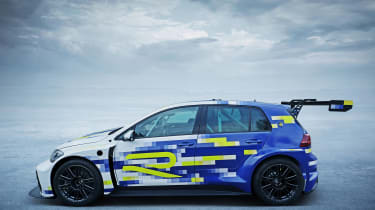 "So we have to work to put those on the road but clearly the future of R must be electric and [head of Volkswagen R] Jost Capito's job is to find a solution for that. We need to define what is R in the electric world; it's different to what we know of in a Golf or any other car.
"First will come plug-in hybrid, which is already coming with Touareg. That's something where we have the answer. For the rest we need to find smart, sustainable answers. The plan is filled with great R models going forward but you have to accept that after this, you just can't plough on. You'd look at us and ask what we are doing here. We have to find good answers for that and that work is happening now.
• New 2020 Volkswagen Golf R to be fastest ever
When pressed on a date for a pure-electric R model, Stackmann said, "We should be able to deliver something meaningful in under five years. But it's turf without a lot of expertise for us, at the moment, so we have to start that journey."
Do you think the Volkswagen ID.3 R will be a success? Let us know in the comments section below…