Volvo XC40 SUV could help double sales
Compact SUV 'first on list' says Volvo chief as new Concept XC Coupe is revealed at Detroit motor show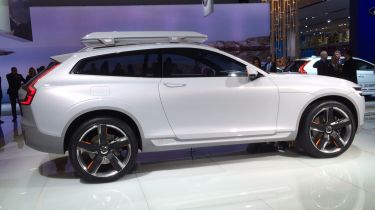 Volvo wants to nearly double its sales to 800,000 by 2020 and is aiming to launch a new compact SUV – possibly badged XC40 – in an effort to help achieve its target.
Speaking at the Detroit Motor Show, CEO of Volvo, Hakan Samuelsson said: "The core models (XC90, XC60, S60 etc) are a first priority but then you can think of some additional models, maybe first on my list would be a smaller SUV."
• More news from Detroit Motor Show 2014
Volvo's future models badged 60 and upwards will be based on a new SPA architecture being developed in-house at Volvo, while everything below that will use a new CMA platform being engineered in collaboration with Volvo's owners, Geely.
"That will be used for the next-generation of '40' models, they will come after the SPA models so expect to see the first in about four years' time," said Samuelsson. That will include the next-generation V40 but it's clear that an XC40 could be the first CMA-based model that Volvo produces, in around 2018.
In terms of how the XC40 will look, Volvo has previewed the styling direction of many of its future models with with the XC Coupe (pictured), which was unveiled in Detroit.
• Volvo Concept XC Coupe points to next XC90 at Detroit
Expect to see many of the Drive-E four-cylinder petrol and diesel engines set for use in the next-generation XC90 to be offered in the XC40, including plug-in hybrid variants. Samuelsson said: "Plug-in hybrids are a realistic option but we do have an interesting field test of electric vehicles at the moment."
Samuelsson also reinforced the belief that no one will be killed or seriously injured in a Volvo by 2020. "Even if you look at it now, Volvo drivers are 50% less likely to be seriously injured than drivers of other vehicles."