Volvo Polestar: everything you need to know
With the release of the new Volvo V60 Polestar, we take a look at the history of the Swedish performance brand
Volvo Polestar is the Swedish manufacturer's performance brand. Think of it as a Scandinavian version of Mercedes' AMG division, or BMW M, or Audi's S range of cars.
The brand started in 1996, when it was first set up as the Flash Engineering team by Swedish Touring Car Champion Jan 'Flash' Nilsson. Come 2005 and after various touring car successes with Volvo in Swedish motorsport, Nilsson stepped aside and Flash Engineering became Polestar. Despite the tie up with Volvo, Polestar still does, however, remain an independent company.
It wasn't until 2010 that Polestar turned its hand to making a road car, however - it was the Volvo C30 Polestar Concept that arguably brought the Gothenburg-based firm to international attention.
The bright 'Rebel Blue' (or 'Swedish Racing Green' as Polestar informally calls it) C30 Polestar concept was instantly popular thanks to its aggressive styling and 400bhp power output. What followed was a range of equally powerful Volvo Polestar road cars, the latest of which is the Volvo V60 Polestar.
You can read our review of the latest Volvo Polestar model below, along with a look at the rest of the Volvo Polestar range, past and present.
Volvo V60 Polestar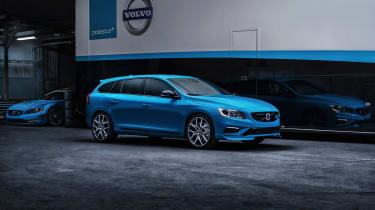 The Volvo V60 Polestar has been designed by Polestar to be a "fun car in all conditions." Based on the regular V60 T6 R Design, the Polestar is set apart by its new front splitter, rear diffuser and 'Rebel Blue' paint.
Inside, aluminium pedals and blue-stitched leather seats have been added. But it's the mechanical changes that matter.
A larger turbo and intercooler are fitted to the 3.0-litre straight-six petrol engine, increasing power by 50bhp to 345bhp. Impressively, there's no extra turbo lag but there's plenty of noise from the new Polestar exhaust system and plenty of performance, too. Volvo says 0-62mph takes five seconds and that's a figure we wouldn't quibble with.
Polestar has also worked on the braking system - stopping power is impressive, even if the pedal feels a bit mushy at the top of its travel. However, it's the chassis upgrades which make the biggest difference.
Performance suspension with 80 per cent stiffer springs and specially valved dampers has been fitted alongside 20-inch Polestar alloys shod with low-profile tyres. The result is sharper handling and steering that produce a much more engaging driving experience.
Trouble is, sometimes it's too engaging. There's a massive trade-off in comfort, as we found the V60 Polestar a bit too firm on the bumpy roads we're used to in the UK.
There are other flaws, too. For instance, you can adjust the dampers, but not by pressing a button in the cabin. You'll need to get your hands dirty and remove some panels, or visit a dealer. Plus, to turn the ESC off you have to go through various menus and there are even more to alter the weight of the steering.
The biggest problem, though, is the price. At £49,775, it's about £9,000 more than the equally quick and more efficient Audi S4 Avant. However, by simply being a 'non-German' performance estate, and a sharp driving one at that, Volvo should easily sell all 125 V60 Polestars that are heading to the UK.
Partnership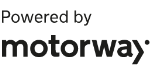 Need to sell your car?
Find your best offer from over 5,000+ dealers. It's that easy.
So that's the Volvo V60 Polestar - but what about the other Volvo Polestar models over the years? Here's our run-down of the key Volvo Polestars to date…
Volvo S60 Polestar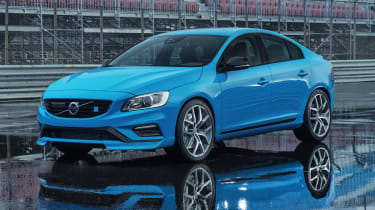 The Volvo S60 Polestar is essentially a saloon version of the UK-bound V60. It gets the same 350bhp, Ohlins dampers, and electronically limited 155mph top-speed as the V60.
However, the S60 is slightly different to the V60 Polestar in that it looks sportier than the estate and instead of being limited to 125 cars, the S60 Polestar will be even more exclusive - in fact, it's not currently planned to come to the UK at all.
Volvo S60 Polestar Concept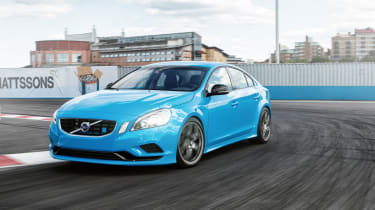 Before the arrival of the 350bhp S60 and V60 Volvo Polestar cars, Volvo created the Volvo Polestar S60 Polestar Concept, which was hand-built in its Gothenburg factory and, had it been for sale, would have cost about £190,000.
It may not look much different from the S60 Polestar - in fact, the only glaring difference could be that it's based on the pre-2013 facelift S60 - but underneath its restrained looks, this is a proper BMW M3 and Mercedes C63 AMG rival.
The S60 Polestar Concept had its 3.0-litre six-cylinder straight six engine tuned to produce 500bhp - meaning a top-speed touching 190mph and a 0-62 time of 3.9 seconds.
Volvo C30 Polestar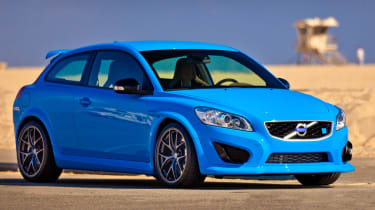 The Volvo C30 Polestar was effectively a road-going version of a 2009 Swedish Touring Car Championship-winning racing car. With 405bhp, buckets of grip and a 0-62mph time of just 4.6 seconds, Volvo turned heads with this road-going racer thanks to its extreme power and all-wheel drive chassis.
It also featured a straight-through exhaust that brought a level of noise most wouldn't associate with a Volvo road car.
The C30 Polestar was also the first car that brought Volvo's "Rebel Blue" paint scheme to the fore, despite the company now offering its Polestar models in either black, silver or red.