Volvo V40 Polestar targets Focus RS
Volvo planning a storming 320bhp V40 mega-hatch to take on the likes of the Ford Focus RS and Audi RS3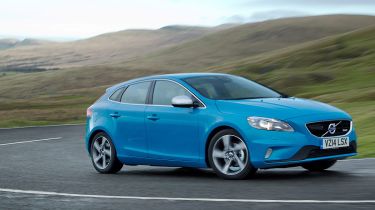 Volvo is considering making a hot Polestar version of the V40 hatchback to rival the forthcoming Ford Focus RS. The car would use the Swedish manufacturer's all-new 315bhp four-cylinder supercharged and turbocharged engine from the next generation XC90 'Twin Engine' Hybrid which, in the SUV, combines with a 79bhp electric motor to produce 394bhp. This should give the V40 Polestar the performance to sprint from 0-60mph in under six seconds and go on to a top speed limited to 155mph.
Such a car would also feature a raft of chassis upgrades to ensure it handles and stops as well as it goes. These are likely to be similar to those on the V60 Polestar, so huge Brembo brakes, a front strut brace, stiffer springs and anti roll bars plus trick adjustable Ohlins shock absorbers.
• Volvo Polestar: everything you need to know
Whether a V40 Polestar would use all-wheel-drive, like the V60 does, is less clear. The car's platform could certainly accommodate all-wheel drive – the V40 Cross Country uses a Haldex system as did the C30 Polestar Concept, which was revealed in 2010.
However, that prototype's 2.5-litre five-cylinder turbo engine develops 451bhp, which considerably more than the 315bhp output of Volvo's new 2.0-litre Drive-E unit. And the Swedish brand will have already seen how its former owner Ford managed to make the previous-generation front wheel drive Focus RS – a car with similar power - perfectly drivable.  
Volvo will be considering the benefit of the superior traction of all-wheel drive against the added weight and the extra cost. After all, the price point for a V40 Polestar will be key as it will need to come in at around the £30,000 mark if it is to compete with the likes of the Audi S3 and BMW M135i. 
Now check out our round-up of the best hot hatches currently on sale.