Volvo S60 Polestar claims 'secret' Nurburgring record
Tweaked Volvo S60 Polestar saloon clocked in a record breaking - but since broken - four-door Nurburgring lap last year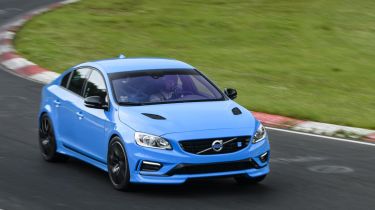 The Volvo S60 Polestar saloon broke the Nurburgring lap record for four-door cars last year, the Swedish manufacturer has now revealed.
Volvo has only just parted with the information because the lap record was set in secrecy – it was performed during a clandestine test of its Polestar tweaked saloon. The results of the test – and the laptime – were kept secret for road car development.
• Nurburgring lap records 2017
Polestar Cyan Racing carried out the test and recorded the laptime – Volvo's official factory racing team, which runs the firm's FIA World Touring Car Championship effort. A video of the lap has also been published.
In the video, Volvo and Polestar claim that the 345bhp S60 Polestar lapped the Nurburgring with a time of 7:51.11. The test took place before last year's WTCC event at the German circuit.
At the time, that would have represented a lap record for a four-door car, but the time has since been surpassed by the likes of the 503bhp Alfa Romeo Giulia Quadrifoglio and the new Honda Civic Type R, which recently retook the front-wheel-drive lap record crown with a laptime of 7:43.80.
What do you make of the Volvo S60 Polestar? Let us know in the comments below...