The best polish and wax
Restoring your car's showroom shine can be hard work, so you want the results to last. These products will help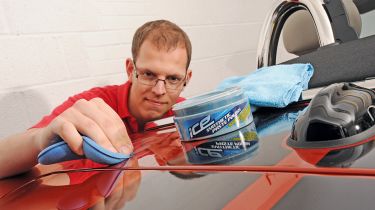 If you take the time to clean your car, you want that showroom-fresh look to last as long as possible. A polish can remove the tiny imperfections that can dull paint. Some, like waxes, also provide a protective coat. It's not a five-minute job, but is worth the effort if that water-resistant layer lasts – so we focused on durability.
We applied 25 waxes and polishes to a scrapyard bonnet, and monitored water beading over six weeks during the worst of the winter snow. Price played a relatively minor role as we picked the three best buys.
Winner: Turtle Wax ICE Synthetic Paste Polish
Price: £19.99
Size: 227g
Contact: 01695 716610, www.turtlewaxeurope.com
We've tried several versions of ICE polish and wax, and this is by far the most successful. It's called a polish, but performs more like a wax. It starred early in our test, and survived a week under snow to be clearly working at the end. The hard formula goes a long way; price includes an applicator pad and microfibre cloth.
Commended...
Halfords Car Polish
Price: £3.99
Size: 500ml
Contact: 0845 762 6625, www.halfords.com
No doubt this was the surprise package of our wax and polish test, and that cracking price isn't the sole reason it has reached our top three. As a liquid polish it doesn't go as far as a hard wax, but £3.99 is still a great price and there's even a 50p-off promotion. It works well, too. While it was a step behind the best early on, the Halfords really showed its stamina as the weeks went by, when more expensive rivals started to flag – and at the end of the test, it was one of the fastest at beading water.
Armor All Shield
Price: £18.99
Size: 500ml
Contact: 0845 602 1995, www.armorall.eu
More of a paint treatment than a polish or wax – and Armor All says Shield is even better than a wax. Early on in the test we agreed, as the product was showing conventional rivals how it should be done, beading water rapidly. This beading slowed towards the end of the six weeks, as the Turtle Wax took over at the front. But the Armor All is still a very good alternative to a wax, and as it's a liquid, it's easier to apply, plus there's no need to wait for it to haze.
Polish and wax Q and A
What's the difference between polish and wax? And do I need to apply both? It's a lot of work… The distinctions have become blurred, but you first polish the car to treat the surface, then wax it to seal in the finish. Polishes have tiny abrasives that smooth the lacquer, letting the colour shine through. A wax protects this, adding depth and allowing dirty water to bead off paint. However, many products claim to be both a wax and a polish.
Can I protect my glass and wheels with the same product I use to wax the bodywork? For the best results, it's worth having a specialist product for each surface. A rain repellent will help protect your glass, and there are some polishes to remove fine scratches, but you should never use a car wax on windows. Rims will benefit from a sealant, although dedicated wheel waxes are designed to cope with the heat of brakes.