The best bumper shine
Get the exterior plastic looking fantastic to retain your car's showroom feel – and protect it in the long term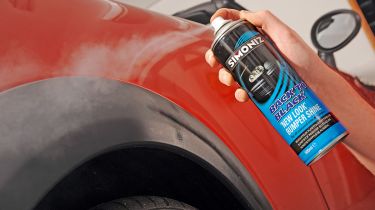 Painted bumpers are now the norm for today's cars, but there is still plenty of untreated trim to protect. Wing mirror mounts, spoilers, wheelarch trim and lamp surrounds all need a protective coat if they're to keep their showroom-fresh black look.
As with wax and tyre shine, you want that protective barrier to work for as long as possible. Bumper shines are the car care world's long-distance runners, with most only starting to flag towards the end of our six-week test, which also looked at price and ease of application.
Winner: Simoniz Back to Black 'New Look' Bumper Shine
Price: £4.99
Size: 500ml
Contact: 0161 491 7391, www.simoniz.co.uk
Another product from Simoniz's 'New Look' range, and it takes our crown. It's just what we want from a bumper shine, with great stamina – it beaded water quickly throughout the test, despite the freezing temperatures. It also left an attractive, muted shine and had a nice citrus smell. Price is good and you can spray it on to a cloth to apply, cutting overspray.
Commended...
Triplewax Bumper Shine
Price: £5
Size: 500ml
Contact: 0161 764 5981, www.tetrosyl.com
Easy spray and leave application makes this Triplewax product ideal for those drivers wanting protection without having to spend lots of time achieving it. This treatment from the CarPlan line-up will also suit those who like a brilliant, glossy shine as it really caught the eye on our test bumper. That in-your-face finish went after a week or so, but the protection remained: it kept shifting water rapidly, right to the end of our test – if a little more slowly than our winner here.
CarPlan Original Black
Price: £4.99
Size: 500ml
Contact: 0161 764 5981, www.tetrosyl.com
We struggled to separate the CarPlan Original from the Triplewax – its Tetrosyl stablemate – at the end of the test. It's also simply sprayed on and left, with none of the buffing that some rivals require. The result was another glossy finish, which may be too much for some. It proved highly durable as well, matching its stablemate throughout, although both were a fraction behind the Simoniz 'New Look'. With such closely matched, top-performing products it's no surprise to see both with a commendation.
Bumper shine Q and A
Liquid sprays, aerosols, gels... there are lots of bumper shines. What's the difference? Liquid sprays are often the best value, as you're paying for a cleaner and no propellant. However, you usually need to buff the finish to a shine. There's no overspray with a gel, and you don't need to use a lot to get the best result. Aerosols are the simplest to use: just spray on to a cloth, rub in and leave it to work.
I've got a scratch running down my door and over the black plastic door protectors. Can I use one product across both surfaces? You shouldn't – a scratch remover or abrasive polish will work wonders on the car's bodywork, but some react badly with plastic trim. Stick to a bumper shine on the black plastic, and remember that most door protectors can be removed if you need to work on this trim separately.