Screwdriver sets tested
A screwdriver set has to provide a range of heads for the different fasteners involved in car DIY. We pick the best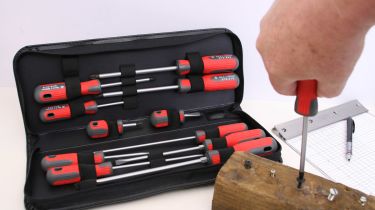 While makers now use a wide range of fasteners in their cars, you still need the basic flat and cross blade screwdrivers for many DIY jobs.
Tool manufacturers realise this, and offer a variety of sets covering flat, Philips or crosshead and Pozidriv heads. Torx, Star and other heads tend to be covered by standalone sets or in multibit tools, which we've tested previously.
Here we concentrate on the three main driver types, but there seems to be no common thinking on which tools should be included so it's vital you see what you get in a set before you buy. We tried 12 to find the best on the market.
How we tested them
Decent coverage of all three types of driver – flat/slotted, Philips/crosshead and Pozidriv – was top of our wishlist. The last two types are often confused, with serious consequences for the fastener. We also wanted to see short 'stubby' drivers and one to tackle electrical terminals. 
Comfort was a factor, too, plus we wanted to be able to use a T-Bar or spanner for extra turning power. Storage and magnetic tips scored points, as did clear size marking and colour coding for the different types. We also rated price per tool, excluding delivery.
Verdict
None of these sets ticked every single one of our boxes, but the Draper came closest. It offers a great range, including Torx tools, and it's all presented in a tough, durable case. 
The Forge Steel set from Screwfix was a step behind, with a decent range, but loses out on price per tool and its lack of colour coding. Behind our top two it was mighty close, yet the Kennedy seals the final podium place thanks to its long tools.
1. Draper Expert 20-Piece General Purpose Screwdriver Set2. Forge Steel 11pc Screwdriver Set 870733. Kennedy Pro-Torq PTS122 KEN-572-6030K