Yamoto Tri-Line Driver Set YMT-572-2080K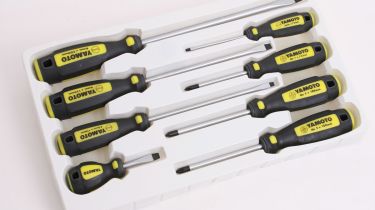 One of the cheapest sets on test, and you can see where the money has been saved – instead of a case, you get just a flimsy insert.
Parts of the finish could be better, but all fastener types are just about covered, and the mainly soft-compound three-sided handles work well and have size markings.
There's no crosshead stubby, but this is all many DIY mechanics will need.