Clarke Pro 7 Piece Magnetic Screwdriver Set PRO120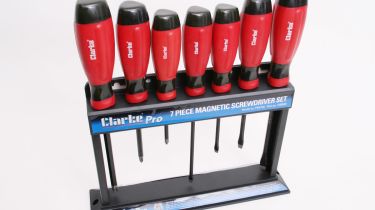 These Clarke tools look as though they're from another generation to most of our other sets.
The handles are big, relatively hard and the flat tops aren't comfortable when applying force.
You'll be doing exactly that, too, as these are from the upper end of the scale size with no stubbies or electrical drivers.
They're tough, with marked handles, but the holder – which can be hung on a wall – won't suit everyone.