Best spanner sets 2015
We test 10 spanner sets to the limit to pick the essential workshop kit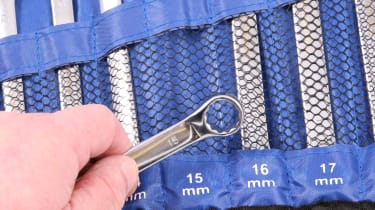 If you're planning to carry out any kind of DIY maintenance on your car beyond topping up levels, swapping wheels and checking tyre pressures, you're going to need some spanners. Alongside sockets, they are at the heart of a workshop tool kit, and most will last a lifetime of working on cars.
The best place to start is with a set of metric open end and ring combination spanners, which will tackle most jobs on modern cars. There's a wide range available, but which is the one to help keep your repair bills down? We put 10 best sellers to the test to find those that turned heads.
How we tested them
As hand tool quality has improved, our test's got tougher. With the help of the AA and engineer Rory Stockbridge, we put each 12mm spanner open end on a torque rig to find the point when it started to spread. All survived well beyond any force that could be applied by hand.
Both ends of the crucial 8, 10, 12, 13, 17 and 19mm spanners were size checked, plus we rated comfort. We looked for size markings on ends and sides, plus on any storage, too. Prices from online sources were our final factor.
Verdict
A second win on the trot for the tough, multi-coloured Draper 23017, which scored well in all tests. It was close for the next three places, but the comfortable Clarke just edges the Sealey to second.
1. Draper Expert 230172. Clarke PRO203. Sealey Premier AK63012